A father's pain
A news writer expresses his fear, frustration, and anger about the current surges in the COVID-19 pandemic, infecting his youngest son. I empathize with him. Here is an excerpt from his op-ed:
"…But how would you feel if it was your child defying the odds? With the advent of the more infectious and dangerous delta variant, the risk is even higher.  My family's experience also serves as more evidence — as if any more was needed — to get vaccinated. (Nearly 58% of New York is fully vaccinated.) Children under 12, like mine, aren't yet eligible for the vaccine, so the responsibility is with everyone else. (For the record, both my wife and I are vaccinated.) Beyond that, we've been vigilant about wearing masks and social distancing over the last year. We still rarely go outside and almost never stay anywhere indoors for long. Yet even after all that time, our youngest son ended up getting infected."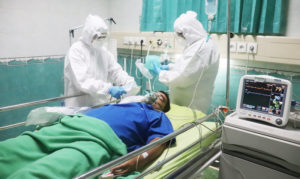 Mandate vs COVID-19
How many would die within 2 years without the laws on wearing a seat belt, parking on a no-parking area, smoking on airplanes, inside theaters, restaurants, and other public areas? Certainly not anywhere near the 638,830 who died from COVID-19 since the pandemic started almost two years ago. And yet, we have mandates (laws) about seat belts, smoking in public, etc., which are less life-threatening compared to COVID-19 infection, especially the Delta variant. We even have mandates on vaccinations as requirements for children to start pre-school, kindergarten, and 7th grade. So, why not mandate vaccination and the CDC guidelines for the prevention of the spread of COVID-19 and save tens of millions of lives? Why not follow what the majority (more than 80 percent of Americans) want?
Had the government mandated those guidelines and vaccinations when the vaccines were first available, we could have slowed down the pandemic and avoided the lockdowns that are still killing our businesses (economy as a whole) around the country, and perhaps have saved millions of lives and the mental health of the nation as well.
Historically, we find George Washington, one of our founding fathers, who, at age 19 got smallpox, miraculously surviving this deadly viral pandemic, leaving him a scar on his nose, mandating the first mass immunization efforts in American history to counter the potential use of smallpox as a biological weapon by the British troops. The Wuhan, China, virus ought to be eradicated the same way: a mass vaccination mandate. Smallpox is now practically gone.
Science, and even common sense alone, tells us that as long as we have unvaccinated (unprotected) people, who will unescapably be carriers or infected with the COVID-19 virus and act as the reservoir-host of the virus (where the virus will rapidly mutate to deadlier variants), we will continue to have this pandemic, which will predictably get worse. It is a no brainer.
How many thousands more deaths are our gutless, spineless national, state, and city leaders waiting for before they abandon political correctness and do the right thing?
Gum disease and dementia
            There are countless studies around the world aimed at finding the cause of dementia, Alzheimer's Disease, being in the limelight. One such research investigation is the large population study by the CDC's National Center for Health Statistics, with data available to the public from the National Health and Nutrition Examination Survey (NHANES).
The study included 6000 participants, followed up to 26 years, analyzing their antibodies against 19 oral bacteria, to find out any link between each bug with the diagnosis of Alzheimer's. They found the most common culprit was porphyromonas gingivalis, the same one that causes gingivitis, the common periodontal gum disease. The presence of beta-amyloid protein in the brain, a major hallmark of Alzheimer's disease, originally thought to be due to cholesterol, is now considered to be produced by this infection of the gums and a major factor in the probable causation of Alzheimer's. The P. gingivalis oral bacterium, according to this large US national population study, which is one of the 700 species of bacteria commonly in our mouth, "can cluster with other bacteria such as Campylobacter rectus and Prevotella melaninogenica to further increase those risks." (Journal of Alzheimer's Disease).
Oral hygiene
             The preceding study reminded me of a reader, who, after reading my article on the importance of oral health to heart health a few years ago, asked what the best technique was in brushing our teeth.
Obviously, when cleaning any area, the best is to cover 100 percent of all of the surfaces. The same with our mouth. I call it conscious brushing after each meal (or, at least after breakfast and dinner), with full attention to every tooth, trying not to miss any of them or any surface in the mouth. Start with dental flossing to get all the food debris in between the teeth, gurgling them out, brushing the gum areas between the upper and lower lips, the entire upper and lower sets of teeth, outer surfaces, top, inner surfaces of the teeth, the floor and roof of the mouth, inner cheek, and the tongue, especially, since the tongue harbors most of the bacteria. Tongue scrappers are available. The entire oral cavity must be cleaned. Repeated gurgling with water follows. The final step is to gurgle with a mouthwash. Personally, I prefer one with stabilized chlorine dioxide, which kills the bacteria and neutralizes odor-causing bacterial products. A visit to the dentist every six months is essential.
Besides the benefits to heart health, oral health is now revealing to be of great value to brain health.
IMST lowers BP
             A welcome JAMA news: "The efficacy of high resistance Inspiratory Muscle Strength Training (IMST) for lowering casual blood pressure in otherwise healthy midlife/older adults with above-normal systolic blood pressure" has been shown by a recent study. "The observed 9-mm reduction in the SBP is greater or equal to reductions observed with other healthy lifestyle strategies, including aerobic exercise, while time-efficient IMST only requires about 30 minutes per week."
             "This improvement in SBP is clinically meaningful because it is associated with a 30% to 40% lower risk of death from CVD. The reduction in DBP with IMST was smaller, but our subjects had clinically normal DBP at baseline and aging is not associated with increases in DBP. The reduction in casual SBP was largely sustained after 6 weeks of abstaining from IMST, with about 75% of the initial reduction preserved."
IMST, basically using deep breathing exercise, also reduces the risk for dementia and kidney diseases.