Wilson to Donate Nearly $200,000 in Free Groceries at Montrose Deli, Seafood City, and Shop and Save Stores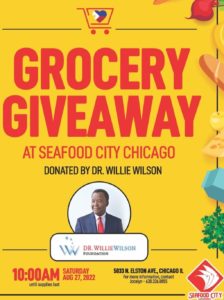 WHO: Humanitarian & Businessman Dr. Willie Wilson, and Executives from Seafood City, Montrose Deli, and Shop and Save.
WHAT: Dr. Wilson will hold a press conference with executives from Seafood City, Montrose Deli and Shop and Save. This grocery giveaway is on a first come first serve basis.  Each participant will receive $25.00 grocery card that must be used the same day.  Dr. Wilson's schedule of stops is below.
WHEN: Saturday, August 27, 2022, at 9:30am.
WHERE: Seafood City, 5033 N. Elston, Chicago, IL.
WHY: "I recognize that soaring inflation is causing pain on household budgets throughout Illinois.  Over the last year the cost of food has risen nearly 12 percent according to the Bureau of Labor Statistics.  Lower income families spend approximately 77 percent of their income on necessities.  Inflation is eroding the savings of many Americans.  In fact, the costs of milk and eggs are up 11 percent, meat is up 14 percent and fruits and vegetables 8 percent.  I see and hear the pain of my fellow citizens and I must help." Said Dr. Wilson.
Dr. Wilson stated:  I am proud to partner with Seafood City, Montrose Deli and Shop and Save stores to provide free grocery to families.  Today's donation impacts the largest Filipino grocery store (Seafood City) and one of the largest Polish community grocery stores (Montrose Deli). The donation at Shop and Save impacts all citizens.   I urge our elected leaders to roll back regressive taxes that hurt our citizens.
Since the COVID-19 pandemic, Dr. Wilson has donated more than 30 million face masks to the City of Chicago, Mount Sinai Hospital, Jackson Park Hospital, the Chicago Transit Authority, Cook County Jail, Chicago Firefighters, Fraternal Order of Police, 75 senior citizen homes, the Westside NAACP, and 22 community organizations. Additionally, Dr. Wilson donated face masks and monetary donations to many South Suburban West Suburban communities and downstate communities like East St Louis, Peoria, and Rockford.  Dr. Wilson has personally donated $1 million to help people who have lost their jobs due to the COVID-19 pandemic. Also, he has donated $2 million to help 1,000 churches. He has committed $5.2 million for free gas and food.
 Participating Stores in Grocery Giveaway
Start Time: 8:00am
Montrose Food Mart & Deli, (Dr. Wilson to stop by)
6601 West Irving Park Road, Chicago, IL
Montrose Deli
5411 West Montrose Ave., Chicago, IL
Montrose Market
1731 W. Golf Road, Mount Prospect, IL
 Start Time: 8:00am
 Shop & Save (Archer)
5829 S. Archer, Chicago, IL
Shop & Save (Nagle) (Dr. Wilson to Stop By)
6312 N. Nagle Ave., Chicago, IL
Shop & Save (Bridgeview)
8847 S. Harlem, Bridgeview, IL
Start Time: 10:00am
Seafood City Chicago (Dr. Wilson to hold Press Conference at 9:30am)
5033 N. Elston, Chicago, IL