A Wife of Wonder
Fascination struck an arrow deep in me,
glancing at her in our class, Anatomy.
Immaculate in white, alluring, divinity,
this amazing, brainy, pony-tailed, beauty.
As days, weeks, and months flew by,
my admiration for her did peak and multiply.
A sneak at her each moment was addicting,
Gazing at her charm buoyed my soul drifting.
Reading a book, or simply walking by,
or even when doing nothing at all,
she attracted me and captured my heart.
A smile from her, I fell apart.
In all my dreams she was always there,
endless, even when I was not asleep.
She bewitched the limbic system of my mind,
A better soul mate, it said, I'll never find.
Decades have passed since she said yes to me,
with five awesome children and ten of theirs now,
she still mesmerizes me with excitement and awe
and brightens my heart with an inspiring glow.
As I close my aging eyes each night beside her,
I thank God for "sentencing us to life" together,
for without this fabulous wife of joy and wonder,
my life would be meaningless, lost, asunder.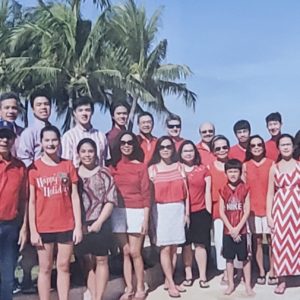 Above photo: The CHUA FAMILY, five children, three sons-in-law and 10 grandkids, flew to the Philippines with Drs. Philip and Farida Chua to connect their grandchildren to their roots and show how beautiful their ancestors' country is. This photo was taken at the Punta Fuego Beach Resort in Nasugbu, Batangas in December 2019.
 Composed by our columnist, Philip S. Chua, MD, FACS, FPCS, for his wife, FARIDA, on their 39th wedding anniversary on June 21, 1998, in Munster, Indiana. They celebrated their 25th in Paris and their 50th in Venice. They are celebrating their 63rd this COVID-19 pandemic year 2022 with family and friends in Las Vegas and Munster.
.