A pinch of salt
. . .  A sprinkle of  pepper
, , , and a dash of sugar
   Of Children, Granchildren and the Pandemic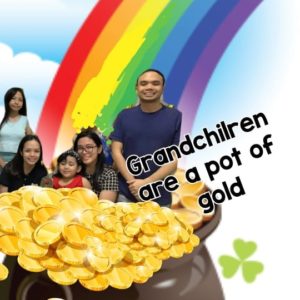 There's a quotation that brings warmth to my heart and smile to my face. Your children are your rainbows; your grandchildren are your pot of gold.  I am almost certain that most septuagenarians will assent to this. In my younger years as a mother I delighted on my children – how they made me smile or laugh even,  on the candid things they said…the funny things they did …the mess they made and their mere presence colored my life vibrantly and beautifully like the rainbow. They made me cry too, some tears of joy, others of concern and still others of senseless issues. Foremost, they gave me hope for the future generation; hope that someday they would experience the joy of parenthood, how to love unconditionally, give without measure and pray unceasingly to God in gratitude for every circumstance in their life.
There was one particular incident that I can remember with one of my two sons on the issue of aging.  It touched my heart and colored it blue. My mother-in-law visited us and as she left, we sat on the step to the front door; I remarked, "Someday, I will come to your house and visit your family like what Lola did." He looked at me and asked, "You will be old !? …No… no…I don't want you to be old." He put his arms around my neck , then run his fingers to my  face and cried. I realized that as early as three or four years old the children could already have anxiety about aging. I ended up saying that it would still be a long time yet, they would still grow up, would get married, and he said, "I'll marry you". Then I explained some more.  I knew that it finally ended up in a cheerful note. My mother-in-law once told my husband that I was very engaging and patient in explaining things to my children. They seemed to understand.
There were innumerable sequels which were corollary to those beautiful rainbows that somewhere, somehow … in time. led to the pot of gold.
To date, I have four grandchilren and a great grandchild in my pot of gold. Except for the eldest grandson and the great grand one, I did not have the privilege to see the others come to this wonderful world as I was in the U.S.A.  Although, in my two-week visits every two years I see them.
There was the time when a realization came (after my son talked to me) that "You are only the grandmother and if there is anything different from what I believe is good for my son then it will prevail because after all, he will be with us and not with you. So please don't spoil him".  I understood. For other reasons, I left for the U,S.A. when his son was eight years old.
At this point in time, since my return to the Philippines in 2016, I have all the opportunities to enjoy my grandchildren, eating out at least on a monthly basis and partying with them on special occasions, such as their birthdays, school graduations; Christmas and New Year.  We certainly don't run out of occasions to find a reason to come together.
Pandemic doesn't stop our interactions, after all, two families live in a compound and if it's not ECQ then all three families get together. We're just 12 altogether! We have a Family Chat Room in the Internet as the younger generation can't seem to have enough of each other and they are all Techies.
Retirement is the time to enjoy the grandchildren and soak in our pot of gold and bathe in its radiant colors. God is good, and so is life! Join us at Megascene … be blessed!
,