Brain fog, etc.
Disturbing News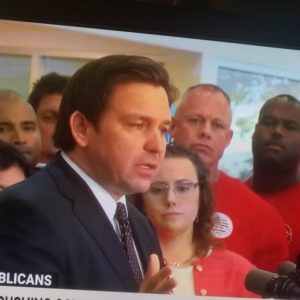 Photo above: Florida Governor, Ron DeSantis
"TAMPA, Fla. (AP)  March 2, 2022— A visibly annoyed Florida Gov. Ron DeSantis admonished a group of high school students for wearing face masks at an indoor news conference Wednesday, saying it was time to stop what he called "this COVID theater." The Republican governor approached the students and asked them to remove their masks as they waited for him at the press event at the University of South Florida in Tampa. The college is located in an area where the federal Centers for Disease Control and Prevention still recommends indoor masking due to high COVID-19 risk."
Obviously wanting to tell the world that "he was" the greatest state governor who was ahead in the country in "defeating" COVID-19, Governor DeSantis acted like a dictator demanding, berating the students with him on the stage to remove their masks, while some towns in Florida still had a high level of COVID-19 cases and the "CDC still recommended indoor masking due to high COVID-19 risk."
He had no right to do that, especially in an angry manner devoid of respect, more so because of the risk, which the CDC recognized. Those students had the right to wear a cap, a gown, a mask as they so desired. This is a free country. If DeSantis had a mask mandate to reduce COVID-19 transmission at that time and the students refused to do so, he would have that right to demand them to wear masks, but not the opposite situation since that area and the nation as a whole still had a significant number of cases and number of deaths, albeit lesser than a week ago.
This is an example of a medically ignorant, misinformed leader just like many other politicians trying to be politically correct. They are one of the reasons why we have almost a million COVID-19 deaths in the United States.
"The Florida Health Department plans to recommend against COVID-19 vaccination in healthy children, directly contradicting CDC guidelines. (Tampa Bay Times)." This is one of the many confusing opposing views among our leaders that risk people's lives, the very reason a timely national mandate on PPE and vaccination for all without medical contraindication is so essential during a pandemic, not leaving the management to the various States, whose 50 Governors have 51 different ideas, resulting in almost a million deaths in the United States, the worst compared to all other countries.
Kennedy against vaccines
The other reason is Robert F. Kennedy, Jr., who is insanely against the COVID-19 vaccines, besides all other vaccines in the past. He must be ignorant how the world has practically eradicated killer Smallpox with Jenner's (1796) "inoculation vaccine," and how Polio has been severely reduced with the Salk (1955) and Sabin (1960) vaccines. Not to mention all the pre-school vaccine requirements the whole world is using to protect all our children and the seasonal Flu vaccines saving millions in the USA alone every year. And the most current is the COVID-19 vaccines which have so far saved billions of people around the world. (WHO recommends the booster shot for more vulnerable adults with health issues for added protection.)
Sadly, even doctors…
             Unfortunately, even some people of science, a few physicians and nurses are anti-vax, like "Simone Gold, founder of America's Frontline Doctors, an activist group known for spreading misinformation and conspiracy theories about the pandemic and Covid vaccines. He has pleaded guilty to a misdemeanor charge related to the storming of the U.S. Capitol on Jan. 6, 2021, which carries a maximum sentence of one year in prison and a fine of $100,000."
COVID-19: brain fog?
People who have been infected and developed post-acute COVID-19 syndrome, termed Long COVID-19 (40 percent incidence), could have lingering neurological effects, like brain fog, fatigue, breathing difficulties, visual disturbances, cognitive impairment, anxiety, and a problem with memory. These could last for up to 6 months for 37 percent of people. Mild-to-moderate COVID-19 usually gets better within 1-2 weeks.
Studies have so far explained the reduced oxygen supply to the cells of the nervous system can "silence" the cells. These "silent neurons" may be responsible for some Long COVID symptoms and increasing their blood flow to increase their oxygen and micronutrients supply using neuromodulation techniques can reactivate silenced cells of the nervous system."- (Journal, Restorative Neurology and Neuroscience).
"Researchers at the SAVIR-Center in Magdeburg, Germany, found that noninvasive neuromodulation using NIBS improved visual field loss in under 4 days and noted improved blood vessel dilatation in peripheral arteries and veins (113 to 300 percent) after NIBS treatment. Both vision and cognitive problems have improved after treatment."
Indoor air quality
             A research team at the University of Oregon found that air filtration, and good humidity levels of an indoor room can reduce how easily a virus spreads. Dryness enables the virus (much like dust) to float and fly around easier with airflow and cause infection. Outdoors, the wind dissipates the virus, the reason why outdoor dining, for example, is safer than eating inside restaurants.
One thing this pandemic also taught us is that "most public buildings have poor air quality inside them, which is conducive to increasing risk of pollution, respiratory illnesses, and during a pandemic like COVID-19, to increased risk of transmission. The recommendation is to regularly monitor the air quality inside these buildings and be publicly graded. Large apartment buildings, children's facilities, schools, commercial buildings, and stores are advised to have MERV 13 filtration, and every classroom and childcare facility in the United States should either MERV 13 or HEPA filters."
Current data reveal COVID-19 case, hospitalization, and death rates are much lower for vaccinated Americans than they are for the unvaccinated, who are nearly 25 times more likely to be hospitalized than vaccinated individuals.
COVID-19 stat update
As of Monday, March 7, 2022, there were 69,459 cases and 1,686 deaths in one day in the United States.
Globally, on Tuesday, March 8, 2022 ( 5:35 PM (EST), Total cases: 449,368,894, Deaths: 6,033,022, New deaths: 5,764; USA:  80,998,258, Deaths: 986,958, New deaths: 851; The Philippines: 3,668,710, Deaths: 57,072, New deaths: 6.
While the numbers are going down, the pandemic is far from over. Let us continue to be wise, vigilant, and careful. We are almost there.
And let us continue to pray for the people of Ukraine and all those who are suffering around the world.
Erratum:  In our column last week, the correct statement in the second paragraph under Health News Capsules should be: "Ivermectin, like hydroxychloroquine, has NOT been found to be effective against COVID-19."