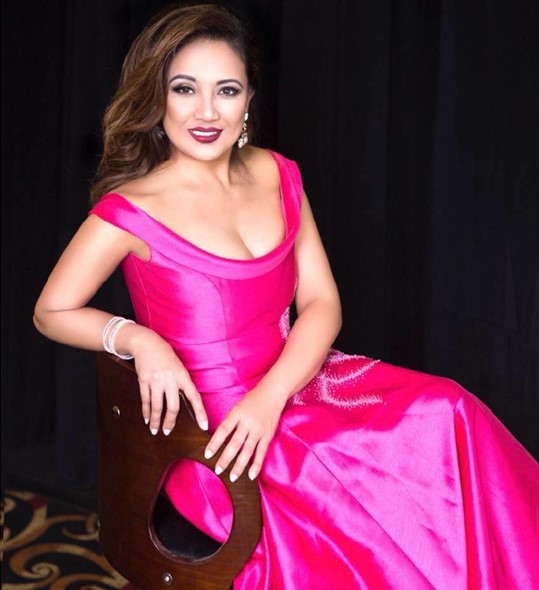 Jovie Calma is no stranger to the stage! You may see her on television, film theater, newsmagazine, in photo shoots and social events, working the red carpet, strutting the runway, conducting workshops or, in speaking engagements. This girl is all over the place!
She is an award-winning TV Host/Anchor and producer of Wassup? and Jovie Calma LIVE, a syndicated TV show. She's a writer/columnist, an international performing artist, actress, model, motivational speaker and globetrotter. She is tagged as corporate powerhouse by day and partyphile by night!, a philan-thropist, REAL beauty activist and global ambassador advocating for prevention of suicide and domestic violence.
Born into the musical and theatre-oriented family of Connie Calma and the late Ricky Calma, Jovie's passion for music and arts can be attributed to her family being involved in the creative craft. She graced the stage at the age of four and at an early age, Jovie was motivated and lovingly pushed to entertain. She honed her singing ability by singing in church choir as soloist. Jovie has performed at various concerts and festivals as a featured artist and opening act to world-famous performers not only in the USA but also in Asia, Australia and Canada. Her most humbling experience was when she had the honor to perform for Saint Pope John Paul II in the 1995 World Youth Day in Manila, Philippines. In 2011, she represented the Filipino-American community of Chicago and performed at Ven+ID Macrofestival, one of the big events at the World Youth Day 2011 in Madrid, Spain.
She is a familiar face in the Asian-American Community in Chicago. As a TV Host/Anchor and Producer of Wassup?! JovieCalma LIVE, she interviewed and featured local and mainstream celebrities in the likes of Bruno Mars, Tia Carrere, Kristi Yama-guchi, Sharon Cuneta, Arnel Pineda, Lea Salonga among many others. She's also a free-lance columnist and writer. Jovie earned recognition at the 2010 Chicago Filipino American Hall of Fame for her Most Outstanding Service for VIA Times and CPRTV. In addition, she was conferred the title of "Starlet Diva" with Chicago-based promotions and publicity company Maven, recognizing her as one of the influential and successful Chicago women in Media, PR, Fashion, Fitness, Culinary Arts, Beauty, Performing Arts, and Sports at the "Diva Series" in 2011. Jovie was also inducted in the NaFFAA Illinois 2015 Circle of Empowered Women. She also represented the Filipino-American Community at the Chicago Regional NEXT Conference. She was one of the panelists for the Youth Summit in Washington D.C. sponsored by the White House Initiative on Asian Americans and Pacific Islanders and just recently, at the United Nations.
Jovie was also honored as the first Filipina-American to be included in the roster of Celebrity Emcees and Celebrity Models for the Annual Latino Fashion Week. She graced the covers of AMOUR, TIARA, FMagazine, and VOGUE Italia. Jovie was also featured on the Dove digital billboard in Times Square, New York City.
Jovie's colorful life isn't about social functions alone. She's an advocate for suicide prevention and stopping domestic violence and has committed herself to expanding educational services and supplies in underserved rural communities around the world while serving in the Board of Directors for Filipino American International Youth Development Foundation. But of the many hats she's wearing, Jovie is most proud of her role as Mom of two wonderful boys, Alric, who's currently serving the country as a US Navy sailor and Rovic.
Jovie views her life in the context of Shakespeare's stage where she's destined to play various roles. And as a consummate artist, Jovie is determined to give a stellar performance in all these roles she plays. When the curtain falls down, she hopes to get a standing ovation!