Are Filipinos Resilient?
Above photo: Water lily
Early this year Usapan Chicago held an online discussion about resilience. Friends Zoomed in from U.S. states and the Philippines, and the discussion was lively and multi-faceted. I gave a short slide presentation, where I described resilience as similar to a waterlily, beautiful when blossomed, but originating in mud.
I tackled the psychological definition of resilience: the capacity to face, tolerate, and overcome suffering or extreme loss. For resilience to develop, several conditions have to be present. First, there has to be a genuine, constant threat for adaptation to take place. A singular incident will not build resilience. For learning to occur, the exposure has to be repetitive, and serial adaptation will lead to resilience. However, for this to occur, functionality needs to be recovered, or learning will not be optimal. It is clear from this process that the individual is in active interaction with the environment, which includes not only physical elements but, more importantly, social relationships as well.
A survey of 1,879 respondents conducted by the University of the Philippines between March 28 and April 12, 2020, showed higher psychological impact for females, youth, single, students.
16.3% psychological impact moderate-to-severe behaviors. A smaller survey in California among single households with many members reported experience with racism, language barriers, fatalism, and belief in myths and home remedies.
Other studies show some important lessons that offer hope: (1) The individual has a powerful individual capacity to overcome; (2) Interaction with the environment needs to be dynamic, characterized by constant change; (3) Adaptation does not require extraordinary resources because in most cases, we already have what we need; and (4) the individual needs to be willing to change and responsive to intervention.
So what did the participants of Usapan think of these findings? Did these ring true for them? The most surprising thing, for me at least, was the almost fierce insistence that Filipinos are resilient. After all, don't we regularly deal with typhoons, volcanic eruptions, mad politicians, a fickle economy? Social interaction is already such a part of our daily lives that having a helping network is already a given. Our capacity and willingness to help is built into our psyche. We like to think that we are a cheerful, smiling people. Just look at our tourism ads, the face we show to the world.
And there, I believe, is also the cause of our tiptoeing around the issue of mental health. I remember, growing up, that whenever kwentuhan went in the direction of illness—any kind—my parents would drop to their voice to a dramatic whisper. "So-and-so has ____!" I wasn't quite sure if this was because they were not at liberty to divulge personal circumstances of that person, or that mentioning it was an acknowledgment that the person was somehow deficient in something.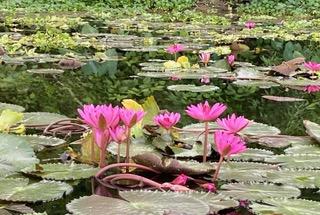 But we are water lilies. In Buddhism, the water lily is a symbol of resurrection because it closes at night and opens in the morning. It also represents enlightenment because of the spongy, muddy mess that lies beneath the surface of the water, a thing of beauty emerges. That spectacular sight is the result of defiance and hope.
There is another lesson to be learned from this hardy plant. Agriculturally, water lilies are perennial plants that continue to grow and reproduce. Each flower is an individual, arising from its own set of rhizomes rooted in mud. They develop best in calm water, with no rough currents that may disturb the plant's rhizome and stem. Like the water lily, each person is the embodiment of a set of specific physical traits and circumstances. And while each person exudes a beauty that is completely unique, the landscape is much altered when people converge and interact. Resilience, both individually and as a community, is a product of these relationships, and can only endure if there are calm waters. We need to take care of each other, regardless of preconceptions about mental or physical health. A person in need of support should feel free to ask for it, without fear of judgment.
As the pandemic evolves or devolves, we need to call forth on empirical evidence that we already have what we need to be resilient. There are no special superpowers. There is only the strength of a group, community, or nation that accepts and moderates differences to create a calm, unruffled lake.