Pangolin Rescue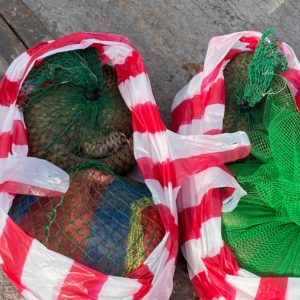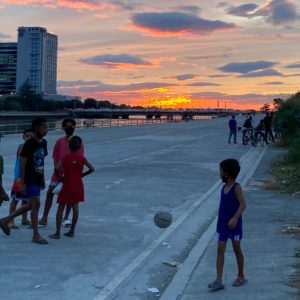 Above photos: Left -Pangolins were transported in plastic bags. Right-Children play near the dropoff site against the backdrop of the famous Manila sunset.
(Part 2 of two-series installments)
By: Almira Astudillo Gilles
01/07/2022 Republic Act No. 9147, otherwise known as the Wildlife Resources Conservation Act, provides for the conservation and protection of wildlife resources and their habitats. Under this act, it is illegal hunt, possess, or trade pangolins. Penalties for animals classified as Critically Endangered range
from six months to a year and a fine of PHP50,000 to 100,000 for transporting wildlife or inflicting injuries or 6 to twelve years of imprisonment and/or a fine of PHP100,000 PHP1,000,000 for killing and destroying species. Illegal wildlife from Palawan is often transported in boats or ships and enter Manila through Batangas, Bataan, or Zambales. In this case, the pangolins would have been in the courier's possession for almost a week, a long time for a species with a picky eating habit. Previous confiscations consisted mostly of pangolin meat and scales. In the 2019 arrest, only two of the ten live pangolins survived and were returned to Palawan.
On the way to the meeting place, D said that the demand for pangolins was predominantly Chinese, and that it had shifted in recent years from scales ground up for traditional medicine to meat consumption. Previously, pangolin meat was just thrown away after the scales were harvested. Although this operation involved a network exclusively for pangolins, sellers will often recommend other items to trusted buyers (suki). The illegal traffic of birds, another very active market, consisted of species caught in the virgin forests of Luzon, Palawan, and Mindanao. Transactions start online, in private chat groups, with confidential informants. One of the goals of law enforcement, aside from apprehension, is the creation of Intel reports (IRs) that contain family trees of sellers, a difficult task for activities that are shrouded in secrecy. Sometimes, it is possible to make an arrest based on the "plain view" doctrine, which allows an officer to seize evidence of a crime without a warrant when the evidence is clearly visible. Sometimes, all the evidence that a wildlife crime has been committed is a Palawan pangolin wandering the suburban streets of Metropolitan Manila. "Pangolins are escape artists," Doc Glenn would later say, while assessing the health of the rescued pangolins." However, when a pangolin senses danger, it curls up in a ball and, in that configuration, it is easy to secure them in a tight net.
A vehicle with the aforementioned make and color stopped in front of the designated restaurant. (D had not returned to our vehicle and we later found out that he decided to wait in the restaurant.) Officer K tensed, waiting to hear from D. When he did, he unlatched his gun and left it on the seat.
"I'll leave this here because they might see it," he said in Tagalog. "If needed, don't be afraid to use it."
Officer K returned. The courier's vehicle moved closer to where we were parked, on a dead end—a less obvious spot.
Things happened very quickly after that. Since my vision was partially blocked, I did not witness everything that happened, but I know that Officer K left our vehicle again. D, who had moved to where the vehicle was now parked, talked to individuals who had gotten out of the car. They walked to the back of the car, where the female courier—who appeared to be one in charge—opened the trunk. Suddenly, the rest of the team materialized from wherever they had been observing, and the two couriers were led to where we were parked. There, in front of me, they leaned them on hood of the vehicle, pulled down their hoodies and handcuffed them. Although I had a direct view, I did not take photos, unsure of the proper protocol, but I'll never forget the mixture of surprise and anguish in the eyes of the main courier, who was still masked.
The entire group then moved back to the suspects' vehicle while someone cordoned off the general area. The famous Manila sunset served as backdrop to the onlookers who had begun to gather. While the couriers were interrogated, several of the team inspected the contents of the vehicle and found 6 tightly curled pangolins wrapped in netting inside plastic bags (four in the trunk, two on the floor of the back seat), a weigh scale, a few pornographic items, a plastic pail). At first glance, it was hard to tell if the motionless pangolins were still alive.
The heat was oppressive, even in the waning daylight, so the team decided to move the pangolins to the vehicle I was in and kept the airconditioner running. In order to facilitate processing, Officer K moved that vehicle adjacent to the suspects' car, and I disembarked.
Classified as Critically Endangered by the International Union for the Conservation of Nature (IUCN), each female gives birth to only one offspring at a time, usually in the early months of the year. Pangolins burrow underground, so trained dogs hunt them down. The health of the pangolins was foremost in our minds and the team worked fast to secure the evidence, file reports, and interrogate the suspects. From the site, the pangolins were to be transported immediately to a wildlife rescue center where they would be assessed and hopefully, soon after, would be returned to their habitat. This species of pangolin, Manis culionensis, is found only in the Palawan faunal region and has the smallest habitat range among the world's eight pangolin species. They are selective in the species of ant or termite they consume even actively avoiding certain species when their preference is abundant. Repatriating pangolins is complicated because optimally, each individual should be returned to its original habitat with its customary food sources. This is also the reason why pangolins do not survive in captivity—their preferred ant or termite will certainly not be readily available.
The suspects were arrested around 4:45 p.m. A female police officer was summoned because a female suspect was present. A DENR arrived with news media. While waiting, I walked over to the suspects' car and peered in. A foul smell permeated the interior, a combination of urine and an odor released by pangolins when they sense danger. At some point the suspects were standing by themselves and I slowly approached them, asking their permission for a chat. Their countenance was that of students in their early twenties, dressed casually in pants and hoodies. I marveled at the impeccable whiteness of the sweatshirt worn by the male suspect. They were quite unlike the older, rough-looking denizens of the criminal world that I had expected.
The weight of these individuals ranged from 3.3 to 5.2 kilos, and the main courier said they were paid PhP5,000 per kilo. At a total of 25.25 kilos, this group would have fetched PhP126,250. The main courier, sensing that as a co-female who was not directly involved in the operation, I would be more sympathetic, pleaded her case. She was a mere fishmonger, she said, selling tilapia that was sourced in Nueva Ecija. Their only involvement was delivering the merchandise to Pasay City. One of the officers said the pangolins came from different parts of northern Palawan to Busuanga, then transported by sea to Batangas, where a transfer occurred mid-sea, arriving in Manila last Saturday. The five-day lag time was critical for the transaction because the courier's fee would be decreased if the pangolins were delivered deceased.
After the DENR officer had given his media interview (the investigation report or IR was to be completed at the police station), it was time to rush the pangolins to the wildlife rescue center located in the Ninoy S Aquino Park and Wildlife Center in Quezon City, at least an hour away, even late at night. The pangolins arrived at the center around 9:30, where Doc Glenn had stayed behind to weigh and assess their health. Labeling them as A, B, C, D, E, and F, it was apparent to those of us watching that some were weaker than others. Some remained curled, unwilling to stretch. C was particularly clinging, refusing to surrender his netting and clutching anything within reach of his powerful claws. They were then deposited in large plastic bins, where several attempted to climb out. I was ecstatic to see them unfurled and active. I thought, mission accomplished.
Little did I know that their journey to Palawan would be hindered by bureaucratic paper shuffling, a powerful typhoon, and holiday work interruptions. I was heartbroken when only one, a male, finally made it back. While his homecoming is certainly a cause for celebration, it is deeply marred by the demise of five others. Looking into their eyes that night of December 16th, I just knew they were fighting valiantly to stay alive. Curled up against the world or stretched out and attempting to flee, they did not give up until they starved, stressed, to death.