Above photo: A total of six pangolins found in the suspect's car.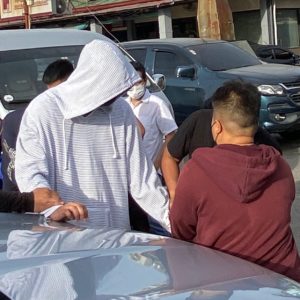 Left photo: The two suspects apprehended for illegal wildlife possession in the Seaside Dampa compound in Pasay City Right photo: Undersecretary Edilberto Leonardo of the Department of Environment and Natural Resources.
1st of 2 series
On December 16, 2021, I observed an illegal wildlife seizure of six Philippine pangolins in Pasay City, Philippines. I was with Y, a conservationist who had the social connections to make things happen, much like "the Engineer" in Miss Saigon. He and I are founding members of the Balete Conservancy, a habitat conservation nonprofit.
On the way to the market where it was supposed to take place, Y, whom I have known for almost ten years now, told me I was to be part of the sting. "You will act as the buyer," he said while navigating the morning rush. He liked to spring that kind of surprise on me, testing my reserve. Not giving him that satisfaction, I asked what I would be doing. He proceeded to explain what had been arranged so far: another friend of ours, D, had an asset in the pangolin market who was pretending to act on behalf of a buyer. Buyer and seller found each other on an online platform for illegal wildlife trade. A deal had been reached for the purchase of four, possibly five pangolins. The seller had arranged to send a courier to bring the merchandise to a restaurant, where the actual buyer would receive it and pay in cash. The "buyer" would be me.
"But would I make a credible buyer?" I asked him, the repercussions of my role just starting to sink in.
He answered with a slight smile. "You look and act foreign enough," implying that I would take the role of a foreigner interested in exotic meats.
"Why can't D do it?"
"He has to protect his identity." Y then proceeded to explain that the rendezvous place would be infiltrated by plenty of armed enforcement officials watching closely, ready to swoop in at the right time.
"How many?"
"10-15."
Probably sensing my initial shock quickly turning into panic, he finally said he was just teasing.
Christmas being a week away, I made mental plans to buy from the wide selection of local and Alaska-caught crabs, prawns, and shellfish. Y and I engaged the vendors in haggling price, discussing transport, making small talk which, I now realize, was for the benefit of anybody who might be watching us. It would be the first buy-bust operation of live endangered Philippine pangolins (also known as Palawan pangolins) in the Philippines. In 2019, three traffickers were convicted for transporting ten pangolins when they were stopped for a routine inspection at a checkpoint in Cavite.
After getting the layout of the market, we proceeded to where the rest of the team waited for the pre-op about fifteen minutes away. The team consisted of twelve members of the National Anti- Illegal Logging Task Force (NAILTF) under the Department of Environment and Natural Resources (DENR), and members from the local police. Established in 2011 under Executive Order No. 23, the NAILTF was initially created to enforce the moratorium against cutting and harvesting of timber in natural and residual forests. The NAILTF is national, with local AILTFs in Luzon, Visayas, and Mindanao. Most of their cases involve sites in Butuan, Agusan, Cebu, and Davao. (In intel reports, the point of origin is the scene of the crime.) The NAILT is involved in other environmental crimes as well such as, in this case, the illegal trade of wildlife, in collaboration with the Police Station of Pasay City.
Sunog ("burned," or alternatively "fire," depending on the syllable stressed) is the term NAILTF uses for an operation that has gone wrong or is exposed. Pangolins are the most trafficked mammal in the world, and this was an opportunity for a historic bust. To prevent sunog, the pre-op had to be conducted smoothly and furtively, in case the seller acquired intel on the operation. I was not privy to the pre-op and stayed in the vehicle. It was decided that Officer K would drive Y's car where I would remain, and D would ride with us. Y rode with another team member and the others would arrive on their motorcycles.
Originally the plan was for some of them to congregate in an establishment with a clear line of sight, across from the meetup place. Upon arrival, we discovered that the establishment where they were to observe the proceeding was closed for an afternoon break and would reopen around the time of the scheduled meeting. Officer K parked the car away from the restaurant but where we could see anybody who approaches it. Since we had about an hour before the meeting, D, acting as the poseur-buyer (PB), left the vehicle to make the rounds of the marketplace to look for someone resembling the courier. The courier had described their vehicle's make and color and sent a photo of herself, which D showed to Officer K, who would be on the lookout from the car. D had been in communication with the courier the whole time, coordinating schedules.
D and Officer K agreed that D as PB would make contact and insist on seeing the merchandise. An exchange of goods and money would not be necessary since mere possession of the illegal wildlife would be sufficient for an arrest. Officer K pointed out the possibility that the item could be in storage elsewhere and that D might have to go off-site, complicating surveillance. However, if the merchandise was in the vehicle, D would say that he left the money in his vehicle and would ask his driver to bring it to him. Officer K would then bring it to D and make the arrest.
While waiting, I chatted with Officer K. To say that operations are dangerous is a given, but preparations leading up to the actual meeting could be physically arduous. One time ten of them were cramped for four hours, sweating under heavy vests, carrying mahaba (long rifles), in a small van bouncing on rough terrain. Despite the hardships, Officer K said the most fulfilling rewards are occasions where local government officials or powerful individuals are apprehended.
Republic Act No. 9147, otherwise known as the Wildlife Resources Conservation Act, provides for the conservation and protection of wildlife resources and their habitats. Under this act, it is illegal to hunt, possess, or trade pangolins. Penalties for animals classified as Critically Endangered range
from six months to a year and a fine of PHP50,000 to 100,000 for transporting wildlife or inflicting injuries or 6 to twelve years of imprisonment and/or a fine of PHP100,000 PHP1,000,000 for killing and destroying species. Illegal wildlife from Palawan is often transported in boats or ships and enters Manila through Batangas, Bataan, or Zambales. In this case, the pangolins would have been in the courier's possession for almost a week, a long time for a species with a picky eating habit. Previous confiscations consisted mostly of pangolin meat and scales. In the 2019 arrest, only two of the ten live pangolins survived and were returned to Palawan.
To be continued
Editor's Note:  Almira Astudillo Gilles is a founding member of Balete Conservancy, a nonprofit dedicated to conserving the most vulnerable wildlife habitats in the Philippines.