NOVEMBER MONTH IN REVIEW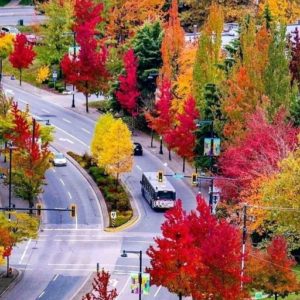 As expected, the last leaf from what was once a tree of vibrant red and orange leaves fell on the damp, cold ground by November's end. The pear tree in our backyard, from which I picked countless basketsful of crispy, sweet pears my neighbors, church congregation and friends got to enjoy as well, is done shedding off its luscious red and golden foliage. Like most of us, it, too, is bracing up for winter, soon to come in a blink of an eye.
While we anticipate so many exciting things in the month of December, Christmas, being the biggest one, it's still nice to look back at the significant events that took place in the recent past month. We'll rejoice once more in the good things that took place and learn a lesson or two from the bad. So, here we go:
TAKING PRIDE IN FILIPINA JOURNALIST, MARIA RESSA, 2021 NOBEL PEACE PRIZE WINNER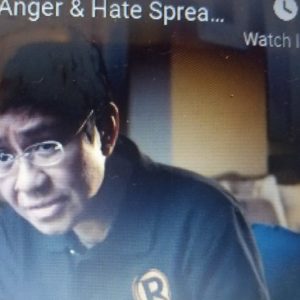 Maria Ressa's Nobel Peace Prize, which she and Russian journalist, Dmitry Muratov won, is a huge validation of her remarkable work as a journalist. A co-founder of news website Rappler, Maria Ressa has been the target of Duterte government's repressive measures against journalists/critics. She and Rappler have been subjected to constant investigations and lawsuits. Ressa is a very vocal critic of President Duterte's policies, especially his war on drugs. She has done extensive investigative reports on the subject, thus exposing his human rights abuses internationally.
Ressa, also a U.S. citizen, faces multiple court cases and was convicted on the cyber libel case which could put her in jail for six years. Currently out on bail, Ressa is in the U.S. and is preparing to travel to Oslo, Norway to receive her award on December 10 but the Philippine government is blocking her travel arguing she is a flight risk. The court has not ruled on the petition as of this writing, thus putting Ressa's travel to Oslo in limbo.
We wish Maria Ressa and Rappler continued victory in their courageous fight to speak the truth!
PINK CAR CARAVAN FOR LENI ROBREDO AND KIKO PANGILINAN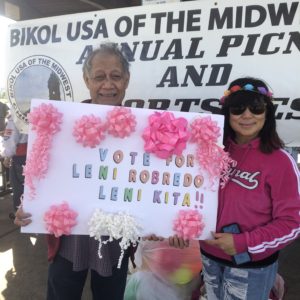 Shortly after 1Sambayan endorsed VP Leni Robredo for President, she made her candidacy official, gaining instant support from mostly middle-class Filipinos inside and outside the Philippines. An independent candidate, Leni could use a groundswell of support, financial and otherwise to complement her lack of big party backing or unlimited cash that comes from personal wealth that are at the disposal of her opponent/opponents. It's been uplifting and inspiring to see these pink car caravans spike up in cities across the United States and in Europe, as evidenced partly by these pink images that popped up in various social media outlets.
Above photos:              West Covina and Cerritos, CA
Organized by the Global Filipinos for Leni (GFL), the first ever Pink Caravan in California took place in West Covina on October 31st, where, as member, Eleanor Pascual Serrano recounted, more than 140 cars joined in. It was followed by another one in Cerritos on November 15. Other cities in the U.S. and world-wide – in New Jersey, New York, D.C. and of course, Chicago, as well as in France's Paris, Australia's Sidney and Hongkong simultaneously launched their own pink car caravan in support of the Leni-Kiko team. Loida Nicolas Lewis, co-founder of GFL, reported having a hundred cars at the event, whereas Eric Lachica, who leads GFL-DC announced getting 52 cars and around a hundred participants in his own DC area.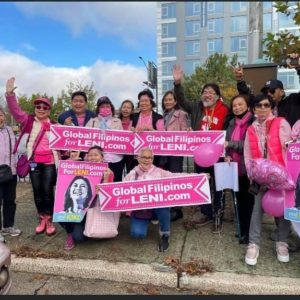 Left: New York City Pink Car Caravan;   Right: DC group led by Eric Lachica of GFL-DC
More Pink Car Caravans are scheduled to take place again in the same and more cities. Chicago is holding one on December 5 at 1-3 p.m.  Assembly will be at the parking lot of La Bagh Woods on Cicero Avenue. Please check out the press release on this here in MegaScene.
CONCLUDING THE MONTH IN THANKSGIVING
The historical background of Thanksgiving we used to know doesn't hold true anymore. As Native Americans started speaking up about their history, the once happy and friendly picture of Pilgrims from England and the indigenous tribes they found in the land sharing a meal to celebrate a bountiful harvest, thanking the natives who taught the Pilgrims how to grow corn, etc. tainted, nay destroyed the meaning and value of the occasion.
From the native Americans' accounts, however, the Pilgrims didn't invite the former to their celebration. It was the leader of the Wampanoag Tribe that went to them to form a friendly pact and spent three days with the Europeans to celebrate the alliance. But this joyful coming together didn't become a tradition. On the contrary, when Massachusetts colony Governor John Winthrop announced a day of thanksgiving following the murder of 700 Pequot people, the Pilgrims observed "thanksgiving" by fasting and praying. In 1863 President Abraham Lincoln  declared that the last Thursday in November would be a holiday and celebrated as Thanksgiving Day.
Apart from history, I personally believe Thanksgiving is an American tradition worthy of celebrating. It highlights family tradition and the age-old values of gratitude, appreciation, and love of and commitment to family. With gratitude and thanksgiving, we leave no room for misery and feeling of lack in our lives. And no matter what challenges you and I face, a grateful heart sees opportunities rather than obstacles.
See you in December for another Month in Review!
Right Photo: A casual reunion in Chula Vista, CA of Cabanatuenos and friends from Wesleyan University Philippines (formerly Philippine Wesleyan College). Seated on front row, left-right: Mila Buan Villamin, Bart Tubalinal, Yoly Tubalinal. Standing l-r: Elito Santarina, Auring Piedad-Garcia, Ely Garcia, Giliw Villamin. Sitting: Samuel Pascual, Eleanor Pascual Serrano and Ligaya Villamin-Pangilinan.