Above photos: Daughter-Father presumed candidates, Sara Duterte-Carpio & Pres. Rodrigo Duterte. Photo credit: Sara by Richard Madelo & Pres. Duterte (GOVJP)
In September 2020, election lawyer Atty. Howard Calleja spoke with Jesuit priests Fr. Albert Alejo and La Salle Brother Armin Luistro about the urgency of preparing for the next election.   The three of them agreed that something must be done to stop the economic recession and unemployment due to the COVID-19 pandemic, which had set in.  The number of infections had kept on rising, and the Duterte administration had shown itself incapable of responding effectively to the crisis.
Consequently, their movement began to grow, attracting patriotic personalities who wanted to find a way of restoring good governance in the country. They spoke with government officials, politicians, sectoral group leaders, and businessmen, who all agreed that Filipinos deserve much better leadership than the current regime.
They knew that the battle would be in the May 2022 national elections.  They then decided that their group must fall behind a single slate of national candidates – president, vice president, and 12 senators – to ensure victory.
The next step was to enlist the help of prominent, credible personalities with unquestioned integrity to lead the new group, particularly in its task of nominating prospective national candidates.
Carpio joins 1Sambayan
First to come to mind was retired Supreme Court Justice Antonio Carpio, legal luminary and champion in the fight for the country's sovereignty in the West Philippine Sea. He agreed to join the group and proposed to make it an inclusive coalition of democratic forces.
Justice Carpio was joined by retired Justice and former Ombudsman Conchita Carpio- Morales and former Foreign Affairs Secretary Albert Del Rosario.  Together with Atty. Calleja, Fr. Alejo and Fr. Luistro, they formed 1Sambayan on March 18, 2021.  Justice Carpio was chosen chairman.  They believed that the foremost qualification for their nominee is someone who has a clear, upright stand against the atrocities of the current regime.
The key to all this is UNITY.  All the groups and political parties that are part of 1Sambayan have agreed to abide by the selection process, and to support the coalition's single slate of candidates, whoever they will be.
1Sambayan immediately began forming chapters around the country.  Chapters have been organized in different provinces as well as overseas chapters such as the U.S., Canada, Germany, the United Kingdom, Benelux, Hong Kong, Bahrain, and Australia.  More countries are in the process of organizing.
The final filing date of candidacy for the 2022 elections is October 8, 2022.  At that time we will know who the presidential, vice presidential, and senatorial candidates are.  We know for a fact — based on her latest disclosure – that Sara Duterte-Carpio is running for president, presumably as the administration candidate, while her dad, President Rodrigo Duterte, would be running for vice president presumably to avoid prosecution for crimes against humanity by the International Criminal Court (ICC).
 The nominees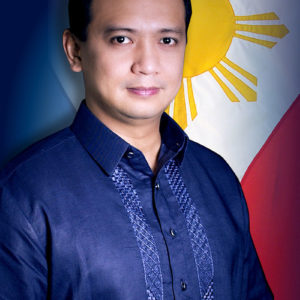 Above photos: Presumed President and Vice President opposition team: VP Leni Robredo and former Sen. Antonio Trillanes. Photo credit: VP Robredo (House of Representatives, Republic of the Philippines.) Trillanes by F. Trillanes IV.
Last June 12, 2021, 1Sambayan announced six nominees for president and vice president who would go through its selection process, which has yet to be determined.  The six nominees are: Lawyer Chel Diokno (Liberal Party), Sen. Grace Poe (Independent), Congresswoman and Deputy Speaker Vilma-Santos Recto (Nacionalista Party), Vice President Leni Robredo (Liberal Party), former Sen. Tony Trillanes (Magdalo), and Congressman and Deputy Speaker Eddie Villanueva (Bangon Pilipinas).
Of the six, only Trillanes has so far announced his presidential bid; however, he said he would give way should Robredo decide to run for the post. The rest haven't announced their electoral bids, but supposedly have committed to be a part of 1Sambayan's selection process.
Poe, Robredo, and Trillanes were already part of the coalition's initial choices for its nominees when it launched in March.  Robredo is the leader of the opposition Liberal Party, while Trillanes is one of Duterte's fiercest critics.  Poe said she's not running for president.  But would she settle for vice president?  Recto and Villanueva are both deputy speakers, which means they are part of the Duterte-allied supermajority bloc in the House of Representatives.  But Recto told the media she has "no plans in 2022."
Villanueva's son, Senator Joel Villanueva, was also against his father's participation in 1Sambayan, saying "obviously we are not interested to embark on a journey to the presidency."  Diokno, a respected human rights lawyer, is a neophyte in politics. He said he is not aspiring to become the next president or vice president of the country.
There you go.  There is your short list – Trillanes would run if Robredo were not running.  However, he might settle for vice president under a Robredo-Trillanes tandem.  Which means that 1Sambayan seems to have achieved what it wished for: a single slate for president and vice president.  And there shouldn't be any problem filling the spots for 12 senatorial candidates.
The candidates
Meanwhile, on the administration slate, President Duterte recently announced that he could be running for vice president to avoid prosecution by the ICC.  So it's going to be Duterte-Duterte vs.Trillanes-Robredo or Robredo-Trillanes for the opposition, assuming nobody would change their minds and get back into the presidential race.  But like they say:  In politics, anything is possible, including reneging on your word.  It has happened too often.
With the anticipated presidential candidacy of former Senator Ferdinand "Bongbong" Marcos, Jr., he'd get the backing of the Solid North, without which, a Duterte-Duterte tandem would lose because to win the presidential election, you have to get two of the four major political/geographical subdivisions: Solid North, Central Luzon, Visayas, and Mindanao.  Solid North would go for Marcos, Mindanao would unite behind the Dutertes, the Visayas, and Bicolandia, which would go for Robredo-Trillanes, who are both from Bicol.  Robredo is also strong in Central Luzon and the Visayas.
But there are other wannabes who have been dreaming of becoming president like Senators Ping Lacson, Vic Sotto and Dick Gordon, and Manila Mayor Isko Moreno.  The 2022 election could turn out to be like the 1992 election in which seven heavyweights competed for president.  The winner, Fidel Ramos garnered 24% of the vote followed by Miriam Defensor Santiago (20%), Danding Cojuangco (18), Ramon Mitra (15%), and Imelda Marcos (10%).  Surmise it to say, if Imelda did not run, Danding would have won with the combined votes of Cojuangco and Imelda (28%). Speculation was rife that Ramos paid Imelda to run, which divided the pro-Marcos voters; thus, assuring Ramos of victory.
Like they say, history has a way of repeating itself.  Could 2022 be like 1992?  Watch how Robredo and Trillanes do the tango in 2022.  As partners, they would be formidable.  As opponents, they could self-destruct.
(PerryDiaz@gmail.com)