Carnage in America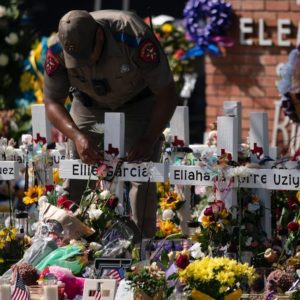 THE MASSACRE that killed nineteen students and two teachers in Uvalde, Texas last May 24, has sent shockwaves across America.  The killer was an 18-year old kid, Salvador Ramos—a high school dropout—who barricaded himself inside a fourth-grade classroom before fatally shooting 21 people.   According to the Texas Department of Public Safety, the shooter walked into the elementary school 'unobstructed' through a door that was apparently unlocked and nobody confronted him.
It all began when the shooter posted on social media that he shot his grandmother in the face.  Then posted saying he'll shoot up an elementary school without naming the school. Within 15 minutes he drove to Robb Elementary School where the shooting occurred.
Bloody timeline
The gunman took his grandmother's truck and crashed it just outside of Robb Elementary School.  At around 11:30 a.m., he took an AR-15-style rifle and a backpack with him and went to enter the school. Another rifle was later discovered in his truck.  The shooter was wearing a plate carrier but not ballistic armor.
At the school, the shooter first encountered school resource officers but made it inside the school through a back door.  He walked down the hallways before entering a classroom.  The gunman then began firing at the students.   It's not clear how many students and teachers were killed at that point.
At 11:35 a.m., two school police officers and five Uvalde officers rushed inside the school.  Bullets grazed two of the officers.  The door was closed at that point.
At 11:37 a.m., 16 more shots were fired. A few seconds later, police heard another shot.  More shots were fired at 11:38 a.m., 11:40 a.m. and 11:44 a.m.
At 12:03 p.m., a terrified teacher called 911. She was inside room 112, she whispered.
By that time, there were as many as 19 officers inside the building.  At 12:10 p.m., the teacher called back. The gunman had killed several of her students.
She called again, three minutes later, and again at 12:16 p.m.
Eight or nine of her students were still alive, she said.
Minutes later, at 12:19 p.m., a child in the adjacent classroom called 911. The call was brief: she ended it when another student told her to hang up.
At least two more calls came in over the following 22 minutes. The last one, from a student, lasted several minutes as the child stayed on the line, trying to quietly whisper updates to the dispatcher.
By then, frantic parents had gathered outside the school, urging police to act. Instead, video showed officers preventing parents from trying to get to the school, and in some cases, handcuffing parents.
Inside the school, officers searched for a janitor so they could get a master key to open the locked door, and waited for more highly trained, heavily armed SWAT operators from Border Patrol's elite BORTAC squad.  Why didn't the police forced their way inside the classroom?  Nineteen armed police officers didn't have the courage to do so?  They ought to be fired!
At 12:21 p.m., the gunman fired three shots; the sounds were audible in one of the 911 calls dispatchers received.  It was at that moment when members of Border Patrol's BORTAC unit arrived, with ballistic shields.  But still, officers took no action.
At 12:43 p.m., the girl who had remained on the line told dispatchers that the gunman shot the door.  Students could hear the police next door, she said.  She pleaded with police to come help.
At 12:47 p.m., after more than an hour huddled in terror among the bodies of her murdered classmates, the girl made the same plea again.
"Please," she said, "send the police now!"
Police finally unlocked the door at 12:50 p.m. and killed the gunman. They began pulling students out moments later. But 19 students lay slaughtered, along with two teachers.  Seventeen others were seriously injured; and in the days after, the husband of one of the murdered teachers would suffer a heart attack and die, leaving their four children orphans.
Spate of killings
The massacre was the deadliest shooting at a U.S. grade school since the massacre that killed 20 children and six adults at Sandy Hook Elementary School in Newton, Connecticut, a decade ago.  Ten days prior to the Texas shooting, a gunman killed 10 Black people at a supermarket in Buffalo, New York.
The spate of killings has raised concerns that too many assault rifles are in circulation across the nation, which led someone to say, "If Children Aren't Safe at School Where Are They Safe?"  All too often, school children are being killed across America and nothing is being done.  Congress refused to act, all because they don't want to touch the Second Amendment.
Texas authorities on Wednesday said they were still seeking answers about a possible motive and what sparked the attack from a man who had no criminal adult record and no known mental health history.
It was revealed that the gunman recently purchased two semi-automatic rifles on separate dates, on May 17, the day after he turned 18 and on May 20. He also purchased 375 rounds of 5.56 ammunition, and seven 30-round magazines.  Four days later he murdered 21 people.
Abbott's press conference
At a press conference, Texas Governor Gregg Abbott insisted that since Texas became a state it's been legal for 18-year-olds to buy long guns.
But long guns of today are often semi-automatic, which did not exist 200 years ago.  What we have now are "killing machines," not hunting rifles like they used then.
Fred Guttenberg, whose daughter Jaime was murdered in the Parkland school shooting, blasted Abbott, saying, "The governor seems completely unable to understand that he can easily make a distinction when you're talking about whether an 18-year-old should buy an assault rifle or not. And all he cares about is a century of history in Texas on long guns. We didn't have AR-15 style assault weapons back then.  He can easily make a distinction and say, 'you can go hunting, here are the rifles you can do, you can buy, you can possess – and here's an assault-style rifle.'"
"If he (Abbott) thinks that people are stupid and unable to understand that there is a clear distinction between a killing machine and a hunting rifle, that he's taking us all for fools."
Yesterday, Vice President Kamala Harris called on Congress to pass assault rifle legislation.  But with the grip the National Rifle Association has on Republicans, it is doubtful if it would ever come to pass.  Assault rifles were once banned in 1994 when then-president Bill Clinton signed the Federal Assault Weapons Ban.  But Congress let it expire after the 10-year sunset was reached. Congress let the bill expire because many Democrats that supported the ban didn't have the majority they needed for a vote.
At the end of the day, it is hoped that the Uvalde massacre would awaken America. It's time for Congress to take the bull by the horn and pass legislation banning the use of assault rifles.  It's time to stop the carnage in America.
(PerryDiaz@gmail.com)