Leni rides the crest of Pink Tsunami
PHOTO CAPTION:
Record-high 220,000 attend Leni-Kiko rally in Pampanga, PNP says
THREE WEEKS TO ELECTION DAY, the tide of the Philippine election is turning the other way!  Yes, it's happening!  You can feel it when you listen to the political rallies around the archipelago.  From Basilan in Southern Mindanao to Cagayan in Northern Luzon, the Filipino people are coming out enthusiastically for their presidential candidate of choice: be it Bongbong Marcos, Leni Robredo, Isko Moreno, Manny Pacquaio or Ping Lacson.  But only one will end up elected President of the republic.
In my last column, "My crystal ball for the 2022 Philippine election," I wrote: "As in previous Philippine elections, the early frontrunners tripped over some issues that torpedoed their candidacies.  It happened to Fernando Poe Jr. in 2004, Manny Villar in 2010, Grace Poe in 2016 and Jejomar Binay in 2016, who both lost to Rodrigo Duterte."
Back in February 18-23, Pulse Asia showed Marcos Jr. had 60% approval rating and Robredo had 15%.  But in a survey of 2,400 people taken between March 17 and 21, when the official campaign was underway, Marcos Jr.'s lead dropped to 56% while Robredo's support jumped significantly to 24%, a nine percentage-point increase.
Usually, surveys are taken based on the socioeconomic classes (SEC) that divide the Philippines' primary social classes into: Low-income class, the Middle-income class, and the High-income class.  The latest Family Income and Expenditure Survey by the Philippine Statistics Authority (PSA) shows that the majority (58.4%) of Filipinos belongs to the low-income class, the middle class comprises around 40%, and the high-income class about 1% of the population.  The classes are further divided into income segments: i.e., High-income = A, B; Middle-income = C, D; and Low-income = E.
It was revealed that the Pulse Asia survey did not include Classes A and B.  Their reason was that only one percent comprise Classes A and B, which might look insignificant but would still make the survey incomplete.   Nevertheless, for the sake of brevity, let's accept Pulse Asia's explanation since it's "negligible."   However, if the results are very close, it could make the difference.
Noticeable trend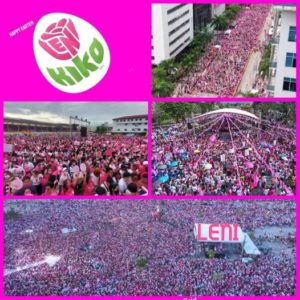 With May 9 just a few weeks away, there is a noticeable trend in the surveys: Bongbong's approval rating came down while Leni's went up.
Barry Gutierrez, Leni's spokesperson, said that her 9-point surge in the latest survey reflected the mounting support for her presidential candidacy.  "What we are seeing now is the turning of the tide," Gutierrez said in a statement.
He said that the survey results actually showed Leni scoring a 13-point swing as Bongbong's rating went down by 4 percentage points.  He reasoned that the survey numbers are starting to reflect what the Robredo campaign has been seeing on the ground all along: "The massive crowds, the fierce passion, the untiring commitment of Filipinos from all walks of life, coming together to rally behind Leni Robredo's bid for the presidency."  He also said that the momentum that Leni is now enjoying would "only further intensify and accelerate" in the run-up to the May 9 election.
Meanwhile, Bongbong's spokesperson, Vic Rodriguez, told Bongbong's supporters not to be complacent and to remain focused on their goal of 70-percent preference mark, which might seem improbable right now, considering that Bongbong's approval rating has gone below 50% and continues to go down.
Grassroots campaign
With Leni's successful crowd-drawing record — she just had a 220,000 attendance to her Pampanga rally last April 9, the largest to date – and house-to-house campaigns, which now explains her increase in voter preferences, would contribute to increasing her numbers against Bongbong.  If she could increase her volunteers to at least 100,000 going door-to-door from barangay-to-barangay, she could surpass Bongbong's numbers.  As of April 2, she had 10,000 volunteers and increasing it ten times is doable considering the youth and enthusiasm of her army of volunteers called "kakampinks."  It's bringing the campaign down to face-to-face grassroots level, which was determined to be the most effective in winning elections.
The day before, the Leni-Kiko tandem was welcomed by 76,000 supporters in Dagupan City in Pangasinan.  Shouting "Awan ti Solid North!" (There is no Solid North), the Pangasinenses' unabashed enthusiasm for Leni and her running mate Kiko Pangilinan seem to suggest that the Marcoses' hold on the Solid North was just a myth.  Encouraged by the big turnout in the heart of Ilocandia, Leni said, "It's not over 'til it's over."  Yes, indeed.
What is interesting to note is that Moreno, Pacquaio, and Lacson are helping Robredo chip away at Bongbong's lead because they direct their attacks against Bongbong, which would insulate Leni from being accused of negative campaigning because she wasn't the one who raised the issue.  The fact that it did not come from Leni is good because Filipino culture still tends to look down on those who do negative campaigning.
For them to stay in the race would be beneficial to Leni.   Hopefully, they'll all stay in the race.
The next survey results should be very interesting.  With the P203-billion estate tax that just became the hottest issue against Bongbong and compounded by Bongbong's refusal to pay the tax assessment, his campaign is headed over the cliffs.
Cheating and disinformation/misinformation
With the campaign season now in the homestretch, it is expected –- as has been rumored –- that Bongbong will resort to cheating and black propaganda.  Actually, there was already unfounded disinformation and misinformation being spread about Leni.
According to Tsek.ph (a collaboration of over 30 academic and media organizations), Leni is the "biggest victim of disinformation" on social media, while Bongbong stands to benefit the most.  Bongbong is also the favorite subject of false claims, which are "largely positive or in his favor seeking to promote him," Tsek.ph head Yvonne Chua said.
In regard to cheating, Bongbong's late father allegedly used the "Three G's" – Guns, Goons, and Gold — to win the election in 1969.  It described the violence and vote-buying that characterized the political campaign period during the presidential reelection campaign of 1969.
Another method of cheating in elections is called dagdag-bawas, which literally means "adding and subtracting," is done by inserting fake ballots and removing legitimate ones.
The good news is:  "The Parish Pastoral Council for Responsible Voting (PPCRV), the accredited citizen's arm of the Commission on Elections (Comelec), rekindled its partnership with a private education conglomerate on Monday, March 28, as the poll watchdog readies its command center for the 2022 elections," the report said.
For the fifth straight election, the PPCRV has teamed up with AMA Education System, which will lend the poll watchdog its computers, and provide information technology support and student manpower.  It opened its command center at the University of Santo Tomas in Manila.
As reported in the news, "after voting ends on May 9, PPCRV's volunteers across the country will pick up election returns (ERs) from some 106,000 clustered polling precincts. These ERs will be delivered to the command center in UST, where these will be encoded by about 200 volunteers per day for a period of 10 days."
What they do at the command center is match via encoding the results in the ERs to that which the vote-counting machine transmitted electronically.   Since the ERs were picked up before transmission, it would ensure that no dagdag-bawas would happen.
The PPCRV targets to register 500,000 volunteers for the May 9 vote, but so far, the group only has around 350,000.  Hopefully, they'd reach their goal on Election Day.
While all the preparations for an orderly election and accurate vote-counting are being done, Leni is riding the crest of a pink tsunami.