The Pink Revolution Phenomenon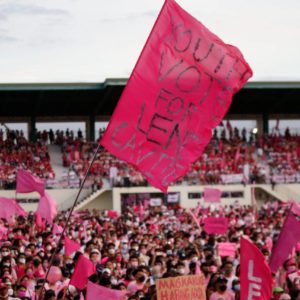 WHAT BEGAN AS one of 97 wannabe presidential candidates has blossomed into one of the five remaining contenders for president of the Philippines.   And of the five remaining presidential candidates, Leni Robredo has moved up to the top two candidates with barely two months remaining in the campaign season.  In all honesty, the contest is now down to just two – former senator Ferdinand "Bongbong" Marcos Jr. and Vice President Leni Robredo, who had hesitated from running for president for lack of funds.
But her friends and supporters prevailed in convincing her to run. When Leni finally decided to run for president, her approval rating was one percent.  Little by little her rating increased to 16%.  Within a month, she surpassed everybody except Marcos Jr. who had a fantastic approval rating of 60%, which by any measure would be unbeatable.  It seemed like Bongbong was going to bag the presidency.
Now, she's on the cusp of becoming the leader of a nation beset with problems from pandemic to unemployment, from poverty to inequality.  But what is noteworthy – and commendable — is the way she addressed the nation's problems.
Leni has been compared to Cory Aquino.  But she said she didn't deserve to be compared to the "icon of democracy."  However, there were similarities.  They're both widows of political figures.  Cory was elevated to the presidency by the EDSA People Power Revolution.   And Leni is now riding the crest of her "Pink Revolution," which has galvanized Filipinos of all ages.   Since she began holding rallies in various cities, Leni had attracted thousands of enthusiastic young people who donned pink shirts and held pink banners.  They attended her rallies, rain or shine.
Resonant message of peace
"We are faced with issues of terrific scale and complexity. But violence is not the right response to poverty and inequality.  Bloodshed will not solve crime and injustice," she said.
She had criticized President Rodrigo Duterte's method of fighting criminality and drugs, saying, "Violence is the quick fix that we must prevent and condemn. Violence is a way of cutting corners, where complex problems are met with simplistic but ineffective solutions."
Leni addressed the millennials, saying,  "I believe that millennials, like you, care. I believe that modern technology puts you in the perfect position to protect the greater good. Most importantly, I believe that you are ready to fight this fight, to answer the urgent call for nation-building, no matter how young you are," she said.
"But when I say 'fighting the fight,' I don't mean that literally. In protecting the Filipino people and the interests of our nation, we must not resort to the brutality of warfare. Our democracy has no room for political intimidation or violence. Progress can always be achieved peacefully," she added.
Her message has resonated with the people, young and old alike.   It's populist to say the least.  But she attacked the problem head-on by encouraging the people to use peaceful means of solving the nation's problems. But one thing she has been doing that I've never observed with past presidential candidates is that Leni never attacked her opponents.
Leni's call on the youth to join nation-building has been a recurring message she delivered before young audiences.  And the crowd roared with approval.  They're ecstatic!  They love her!  She projected a mother-image and it hit them in their hearts: a mother telling her children to participate in nation-building.  It's unheard of before.
 Refusal to debate the issues
But Philippine politics is the art of measuring the present against the past.  They get a glimpse of what the future would look like based on the candidate's past history and present performance.  But all it takes to mess up the calculus is if the candidate fails to address the issues, which could cause his or her campaign to collapse.
A case in point was former Vice President Jejomar Binay who was leading the polls for sometime until one issue was raised against him.  He failed to address the issue of corruption when he was Mayor of Makati.  And that brought him down.  He placed fourth place in the presidential election of 2010.
Bongbong's ratings have plummeted recently, mainly because of his refusal to participate in debates with other presidential candidates.  He's running on one theme, "Unity," which is hollow and meaningless.  In fact, his candidacy has brought back memories of the bloody reign of his dictator father and namesake, Ferdinand E. Marcos, who bankrupted the Central Bank of the Philippines.  All the gold reserves were gone!  Where did they go?  Nobody knows but one can surmise what happened to the gold bullions.  What Marcos did was dissolve the Central Bank of the Philippines and create the Banko Sentral ng Pilipinas.  Its bad accounts are still being paid for by taxpayers.
Bongbong also refused to apologize for the dark period of martial law of which thousands of mysterious deaths – called "salvages" – remained unsolved to this day.
And then there is the case of unpaid income taxes of some P203 billion, which Bongbong refused to address or pay.
Kakampinks
Meanwhile, Leni's grand people's rallies have brought out thousands of Leni's supporters, the "Kakampinks."  The following are some of Leni's rallies:
February 13, Quezon City, 20,000 attended.
February 25, Iloilo City, 40,000 attended.
March 7, Malolos City, 45,000 attended.
March 9, General Trias, Cavite, 47,000 attended.
March 11, Bacolod City, 70,000 attended.
March 12, Echague, Isabela, 10,000 attended.
March 17, Zamboanga City, 35,000 attended.
March 15, General Santos City, 7,000 attended.
But what the rallies have shown on the ground, the surveys also have shown Leni's rising numbers.  In a scenario reminiscent of the 2016 vice presidential election, Leni overtook Bongbong in the latest survey and analysis of at least three credible organizations, two of them global.
A survey sponsored by Manila Bulletin using Facebook had Leni with 47%, while Bongbong had 44%.  One of the Philippines' top three broadsheets, the Manila Bulletin reported the results with more than 1,000,000 participants.
Robredo finally overtook Bongbong in the survey conducted in the last week of January, this year. Results for February have not yet been released as of press time.
The Bulletin had been conducting surveys on presidential preferences since late last year, and Marcos Jr. came out on top each time.
In contrast, the Pulse Asia survey that gave Bongbong 60% approval rating used face-to-face interviews on 2,400 respondents.  The survey was taken from February 18 to 23, 2022, which was a month after the Manila Bulletin survey.
Meanwhile, Leni topped Google Search with 46% followed by Bongbong with 26% on March 11, 2022.
Perception is reality
With two months left in the campaign season, people are beginning to refocus their perception of the candidates.  And like they say, "Perception is reality," perception is what you project into the future based on the reality you see today.  Let's apply this to the Bongbong-Leni rivalry.
Leni's openness has created a perception of honesty and trustworthiness, while Bongbong's refusal to discuss issues and debate what he meant by "unity" smacks of secretiveness, willfulness, and deceit.  Many perceive that the reason he refused to participate in debates is that he'd be exposing himself to scrutiny, particularly his family's unexplained wealth, unpaid income taxes, and disqualification case before the Supreme Court.
While it appears that Leni Robredo has finally broken Bongbong Marcos' huge lead in the various surveys, the only solid evidence that Leni's phenomenal Pink Revolution is bound to carry her to victory on May 9, 2022 were the huge turnouts at the Leni-Kiko grand people's rallies.
(PerryDiaz@gmail.com)