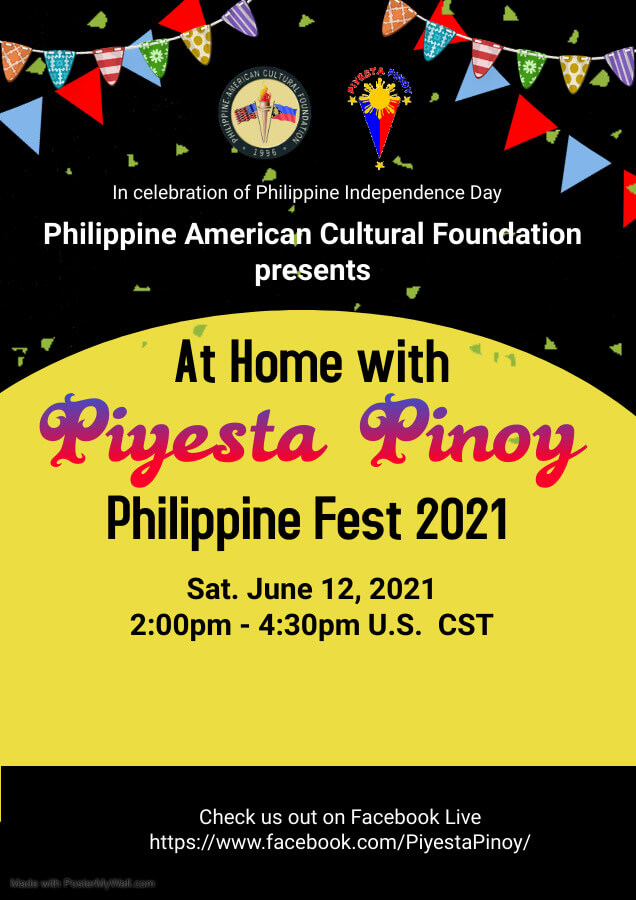 CHICAGO, ILLINOIS
In celebration of the 123rd independence day of the Philippines, the Philippine American Cultural Foundation (PACF), the organizers of this Piyesta Pinoy will host a virtual Philippines Fiesta with "At Home with Piyesta Pinoy 2021: Support Local Filipino Restaurants for Recovery" on Saturday June 12, 2021 in partnership with the Philippine Consulate General in Chicago.
In support of social distancing measures, the annual event that hosts a power-packed 12 hour programming live event at the Bolingbrook Performing Arts Center will instead be online, streaming live on Facebook and YouTube. This year's celebration will be condensed into a 2- hour online show of local cultural performances, talent showcases, raffles plus an additional half hour special recorded video of celebrities from the Philippines sponsored by GMA Pinoy TV, our exclusive media sponsor.
For its theme this year, the organizers of Piyesta Pinoy hope to support the local Filipino restaurants for recovery. The coronavirus pandemic has been incredibly damaging to the restaurant industry so let's show our support for their recovery during these challenging times. We are inviting all local Filipino restaurants to partner with Piyesta Pinoy to take part in a raffle promotion to benefit the Filipino owned restaurants affected due to the coronavirus pandemic. To participate or for any questions, please email us at Piyestapinoy@gmail.com or contact Ruben Salazar (630)379-9636, Cindy Lopez, (630)336-0511, Jan Paul Ferrer, (708)692-0393, Pia Natividad (630)706-1629or Jean Gavina (jeang27@gmail.com).
From May 15 to June 6, 2021, dine in or order takeout food from any of the participating restaurants and you will be eligible to enter a raffle and get a chance to win prizes donated by the Piyesta Pinoy sponsors and donors.
"At Home with Piyesta Pinoy 2021: Support Local Filipino Restaurants for Recovery" will be live on the Piyesta Pinoy FB Page https://www.facebook.com/PiyestaPinoy/ on Saturday, June 12, 2021 from 2pm to 4:30pm CST.