FOR IMMEDIATE RELEASE
Contact: (Markey) markey_press@markey.senate.gov, 202-224-2742
(Rubio) Dan Holler, Dan_Holler@rubio.senate.gov, 202-224-3041
(Durbin) Maddie Carlos, Maddie_Carlos@Durbin.senate.gov, 202-224-7115
(Blackburn) Spencer Hurwitz, Spencer_Hurwitz@blackburn.senate.gov, 202-224-0808
(Coons) Will Baskin-Gerwitz, Will_Baskin-Gerwitz@coons.senate.gov, 202-794-0670
(Leahy) David Carle, David_Carle@leahy.senate.gov, 202-224-3693
Washington (May 3, 2022) – Today, Senators Edward J. Markey (D-Mass.), Chairman of the Senate Foreign Relations East Asia and Pacific Subcommittee, Marco Rubio (R-Fla.), Dick Durbin (D-Ill.), Marsha Blackburn (R-Tenn.), Chris Coons (D-Del.), and Patrick Leahy (D-Vt.) released the following statement regarding recent developments in the case against Philippines Senator Leila de Lima.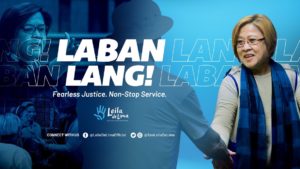 "The recent recanting by key witnesses of allegations made against Senator Leila De Lima warrant her immediate release," said the Senators. "Clearly, the bogus charges against her were, as we suspected all along, politically-motivated and based on false information. That she has lost five years in jail due to these spurious charges is a travesty. She should be released immediately and any remaining charges should be dropped without further delay."
In 2020, Senators Markey, Rubio, Durbin, Blackburn, and Coons led the successful passage of a resolution condemning the ongoing human rights abuses in the Philippines. Due to their advocacy on behalf of Senator De Lima and other human rights activists in the country, Senators Markey, Durbin, and Leahy have been banned by the Duterte government from entering the Philippines. In 2019, the Senate Appropriations Committee passed an amendment barring Philippine officials from the United States who were involved in the jailing of Senator De Lima.
###