Chicago, IL – CIRCA-PINTIG, a 30-year-old community theater, and popular education organization based in Chicago leads the film tour of Tao Po: Love for Humanity World Tour. Tao Po, a film produced and directed by performer-activist Mae Paner aka Juana Change is a masterpiece that delves into the reality of extrajudicial killings (EJK) in the Philippines. In a time of great division and extreme polarization, we often forget the very thing that unites us – our humanity. Tao Po which literally means "I am human" explores the visceral emotions, innermost thoughts, and personal journey of those caught in the crossfire of President Duterte's bloody drug war.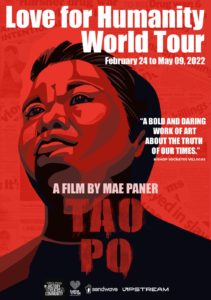 Our primary goal, says Angela Mascarenas, CIRCA-PINTIG's founder and Head of the Tao Po World Tour Coordinating Team, is to use the film as a creative way to link EJK with human rights issues anywhere in the world. And with post-screening discussions, Talkbacks, we hope to engage all who have viewed the film in safe and honest conversations no matter how different our views may be. In doing so, it is also our hope that all who participate may be enriched and that the future that we all aspire may be sparked by our own conversations.
The film is available for streaming worldwide on Upstream until May 9th. To purchase tickets, go to https://bit.ly/TaoPoTickets. Tickets may also be reserved by emailing support@circapintig.org. All paid ticket holders may register to participate in the Talkback sessions with Mae Paner and guest speakers. Talkback Session#1 is scheduled for Friday, March 25th at 5 pm PT / 7 pm CT / 8 pm ET (U.S.) / Saturday, March 26th, 8 am Philippine Time. A film's trailer is available to view on CIRCA-PINTIG's YouTube Channel at https://www.youtube.com/watch?v=ljLcifHdwoE. For more information, contact support@circapintig.org or call (718) 300-8954.
In partnership with Sendwave, first-time users of the Sendwave App will receive a $25.00 credit! USE PROMO CODE: TAOPO.