As I say goodbye to a City that has been home to us in the past 4 years, I take the opportunity to reflect on the life of my grandfather who arrived in Chicago in the spring of 1914.
I was barely of school age when my grandfather, who we fondly called Old Daddy, passed away. No one shared with me stories about his life or his accomplishments. My interest in his life was stirred when my father told me a few days before departing the Philippines for Chicago that my grandfather graduated from Chicago. What??!! Big surprise indeed. But no one seems to even recall the college or school. And why do I get to know it only now?
All the while I thought that the main connection between Chicago and Baguio, from my family's perspective, was that the famed Chicago-based urban planner Daniel Burnham and landscape architect Frederick Olmstead designed Baguio City at the start of the American rule in my country. It does appear that my family has a century-old connection with Chicago.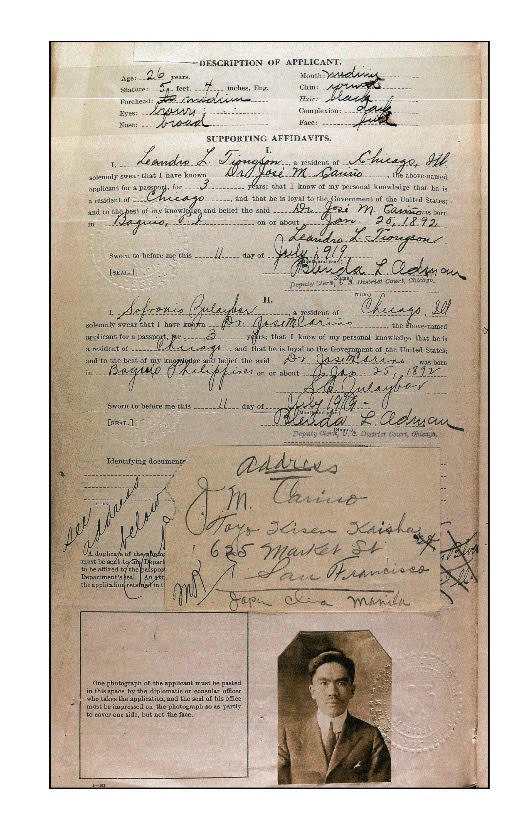 One of the first things I did when my family got settled in in Chicago was to contact Rush University and begin tracking down records on my grandfather, just a few short weeks after my father passed away. He was supposed to be my main informant on what to look for, now he too was gone. The initial response from the Rush University Archivist was short but nonetheless encouraging. I later on was able to get more materials that were stored in the US National Archives.
About a hundred years ago, the first known Filipino to graduate from a US medical school lived and walked the streets of Chicago. Dr. Jose Ma. Carino, the fourth son of the Ibaloi chieftain and Filipino hero Mateo Carino, arrived in the U.S. on May 23, 1914 to start studying at the University of Chicago and eventually received his Medical Degree from Rush Medical University on August 20, 1918. As the granddaughter of Dr. Carino, I consider myself uniquely fortunate to have strolled through the same streets that my grandfather walked.
At the time Old Daddy, started studying in Chicago, the American colonial rule was beginning to take deeper roots in our country. Part of our ancestral land of Kafagway (an Ibaloi term for grassy clearing) has been carved out by the American military forces to create the City of Baguio (taken from the Ibaloi word bagiw, a moss). In 1901, Burnham, and Omstead, both of the Chicago 1893 World Fair fame, were contracted by the US Government to design the city. It still escapes me why the American forces chose our ancestral land, amongst its many options, to establish a military outpost, a trading crossroad, and a rest and recreation center. Was Old Daddy's scholarship in Chicago connected with the US development of the City of Baguio? Many students of law are familiar with the landmark case involving my great grandfather, Mateo Carino, and his fight for our tribe's indigenous land against the US colonizing authority. The US Supreme Court decided in our family's favor but we never got our land back. But that is another story for another time.
University of Chicago opens the door

In my first visit to the University of Chicago a few years ago, I was impressed by the campus and its long tradition of excellence, including the unprecedented harvest of Nobel prizes by its alumni and professors. I share Old Daddy's belief that the University is one of the best in the world and I have every admiration and respect for every freshman that get accepted in the University today. It is a University that keeps true to its motto of Crescat scientia, vita excolatur when it opened the door of education to a humble Igorot from the Philippines who later on became an advocate for Philippine independence and took on the responsibilities of being the first Igorot mayor of Baguio City.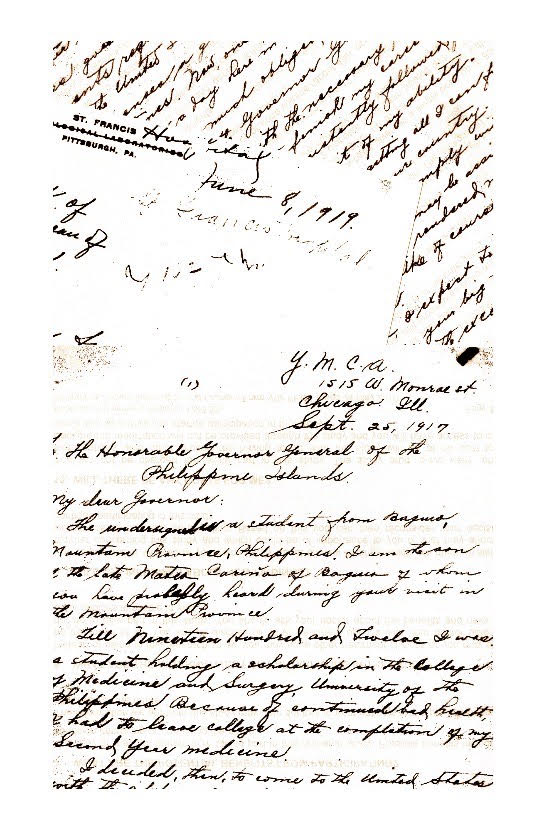 In his reply to Dean J.R. Agnell of the University of Chicago's Faculties of Arts, Literature and Science, the Assistant to Chief C.C. Walcutt of the Bureau of Insular Affairs, described Old Daddy as "an Igorot, from the Mountain Province of the (Philippine) Islands, and came to the United States to secure an education. This bureau… is very much interested in Mr. Carino. . .When a cable was sent to the (Bureau) officials in Manila… We received a reply requesting that every assistance possible be extended to Mr. Carino to aid him in completing his education in view of the fact that he is the first Igorot whom the government has the privilege of aiding." It is interesting to note that Igorots were derisively stereotyped by many colonizing officials as ignorant, backward and pagans. So, it is refreshing to find out that certain well-meaning members of the US Government and the University of Chicago found in my grandfather the talent, aptitude and capacity to be worthy of scholarship at the U of C.
At that time, when there was no internet or publications to rate US schools, it is interesting to know who influenced Old Daddy's decision to go to the University of Chicago? Or, to eventually pursue a medical degree.
Rush University Has First Filipino Medical Graduate
After Old Daddy received his Bachelor of Science from the University of Chicago, he went on to pursue a medical degree from the Rush University, When I was a kid, i used to play at Old Daddy's home in Kisad Road, Baguio City, near Burnham Park. I recalled staring at his wall of diplomas obtained from the great institutions of learning of Chicago. Little did I realize that I will one day have the privilege of visiting these institutions.
On my arrival in Chicago in 2010, I requested from Rush University for some details on Old Daddy. The brief reply from the archivist gave a rush almost like a College acceptance news for me. It goes: " …we searched our records for Jose Mateo Carino. We located him as an August 20, 1918 recipient of the Doctor of Medicine degree from Rush Medical College. According to the 1919 Rush Medical College Annual Announcement, he performed his internship at St. Francis Hospital, Pittsburgh, Pennsylvania."
I believe it was never easy for Old Daddy to complete his education in Chicago. Yet there is no showing that he ever complained about the cold Chicago winter or the absence of friends and family. He did say in one letter that he was turning deaf. At about the time I arrived in Chicago in 2010, the US Census estimated that there were about 140,000 Filipinos in Illinois, many of them living in Chicago and its suburbs. I have been honored to many Filipino homes, restaurants and shops. In 1914, when my grandfather first set foot in Chicago, even by the most generous estimate, there may be less than 50 Filipinos living or working in the City.
One handwritten letter by Old Daddy to the Governor General of the Philippines, dated September 25, 1917, uncovered from the US National Archives, details the financial burdens of the young scholar in Chicago. He calculated that the minimum expense of an expatriate medical student at that time was $1,200!
I have painstakingly searched records for a Filipino who obtained a medical degree earlier than Dr. Jose Ma. Carino, but found no one. It must be a terrific sense of accomplishment to have been amongst the first to obtain a medical degree from a great school. In the years that followed, many Filipinos eventually graduated from Rush University or worked at Rush Hospital. It is my dream that a simple historical marker be installed to honor this achievement of a humble Igorot and all those who followed.
Many of my doctor friends in and around Chicago, especially the members of the Philippine Medical Association of Chicago (PMAC), have expressed interest in this idea. I do hope it happens before the centennial of my grandfather's graduation from Rush.
Interesting Notes on His Way Back to the Philippines:
Discrimination and Search for a Brother who served in Europe
At the time Dr. Carino was leaving Chicago to go back to his homeland, the Philippines was still a territory of the United States of America. As such, one of the powers held by the American Government was the power to issue passports to Filipinos, especially those who wish to visit the ports of call of the transpacific vessels that were the mode of transport.
One of Dr. Carino's letters uncovered from the US National Archives in Washington, D.C. details a frustrating effort at securing the passport to enable him to board a transpacific vessel and go down at the ports of call in Japan and China. Although he did not specifically mention the word "discrimination", the tone and substance of the letter details the "mistake" of officials who were supposed to provide him the passports by classifying him as a "native American." He showed uncommon resolve and calmness towards having the error rectified.
Another letter of Dr. Carino addressed to the US War Department reveals his search for his youngest brother, Castro Carino, who enlisted with the US Navy in Manila then went on to see action in Turkey and Romania in 1918. Until today, our family never got any satisfactory response on what happened to my grandfather's youngest brother. His heroism, very sadly, celebrated in obscurity.
Dr. Carino's Advocacy for Freedom and Democracy

Although many are aware that Dr. Carino became the first Igorot mayor of Baguio City in 1946, very few people are aware that he weighed in on a critical issue of Philippine independence. In 1932 letter to Senator Hawes that was eventually published in the Congressional Record, Dr. Carino wrote:
My Dear Senator: I have no doubt you will be glad to hear from a pagan. I am one of those 500,000 non-Christians who are misrepresented by selfish interests as indifferent or against Philippine independence. I am doubly glad to see a United States Senator intensely interested to find out the truth on our demand for immediate independence. I am among the crowd who gave you a rousing welcome at the city hall, Baguio, a few days ago. You spoke to us of the minority pagans and Moros, numbering about 500,000 as compared with the 12,000,000 Christian Filipinos who are undoubtedly solid for immediate freedom. But the American people should not be misled by selfish propaganda of some Americans that those 500,000 Moros and pagans are all against the freedom of their country. Nothing is so far from the truth than such representation by imperialists. There many thousands of these pagans like myself who are just so zealous for freedom as any of their brother Christian-Filipinos. Their desire for freedom is pure, instinctive and unpolluted. Way back in 1907, when I was just a boy of 15 years and attending the public schools, my desire for freedom was just as strong as it is today, in spite of the fact that all of my teachers were Americans, all against independence and preaching that to be under the American flag is a blessing for Filipinos.
My parents, relatives and family are all pure Igorotes, numbering about 100, and among those called head-hunters. They are not highly educated, but they are all strong for independence, and nothing will satisfy them short of independence.
True enough, there a few of these 500,000 Moros and pagans who are very ignorant and primitive and indifferent to what broad independence means, but still in their own communities and towns they love to be left alone, free and undisturbed by foreign civilization and government. They want to govern themselves and be left alone without interference from the outside.
Ever since the beginning of American administration in the Philippines, the so-called non-Christians have always been controlled and administered directly by American officials, who, as you know, preach retention to the Moros and pagans. In spite of that there are thousands of them with their Christian brothers in our demand for immediate independence.
In conclusion I must say here that I admire your country and your good Government, and we non-Christians are very thankful for what your country has done for us in particular, and for the Filipino people in general and for all these the Filipinos no doubt are grateful. We will always regard the United States of America as our father and benefactor. But it is very natural and an instinct for any people with self-respect and national pride to ask for their own government for which they are steady. We Filipinos are ready and united to embark in complete self-government. We have faith in the American people that the promises of Philippine independence embodied in the Jones law will be fulfilled, the sooner the better. We may find difficulties and hard times in the beginning, but we know they are the price of liberty and we know that we will finally be happy with our own country and government.
Arguably, this may be one of the most cogent, coherent and sincere voices that eventually influenced the US recognition of Philippine desire for independence. I did not see this letter until the time that I was in Chicago. I hope I can share its contents to a wider audience that one humble but determined US scholar took to heart the best values that can be shared by America——freedom, democracy, education and social justice.