Women's History Month Art Events Honor the Eco-Feminist Artist Mira Lehr at the Kimpton EPIC Hotel Miami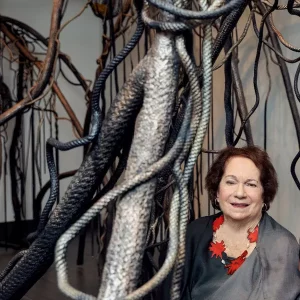 Celebrating the 60th anniversary of Lehr founding "Continuum,"
one of America's first women artist collectives
Featuring all new works by Lehr never exhibited before, on view now
through April 20th in the Hotel's new 16th floor gallery space
 Panel discussion event about Women in the Arts will premiere the worldwide release of new 400-page international volume about Mira Lehr by Skira Editore, one of the world's leading art book publishers
Photo on the right: Mira Lehr, photographed in 2020 for the New York Times by Alfonso Duran.
The Kimpton EPIC Hotel, one of Miami's leading boutique hotels, presents a new art exhibition celebrating Women's History Month titled Mira Lehr: Continuum, on view now through April 20th. The nationally acclaimed, eco-feminist artist is celebrated for co-founding Continuum in 1961, one of America's first art collectives for women artists. It thrived for more than 30 years, and her vision to kickstart the local art scene influenced the evolution of the visual arts in Miami. The Hotel created its  new EPIC Art initiative to advance the works of local artists and provide its visitors an insider's look into the destination's vibrant art scene.
Critics praise Mira Lehr as the real-life Mrs. Maisel of the male-dominated art scenes in 1950s New York and 1960s Miami. Now, at the bold age of 87, Lehr is creating more new work than ever before in her six decades of artmaking. The all-new works in this exhibition have never been exhibited before and were created by Lehr in 2022 and 2021. The artist is now gaining even more national and international acclaim, and is the subject of a major new book by Skira Editore with a worldwide release in April.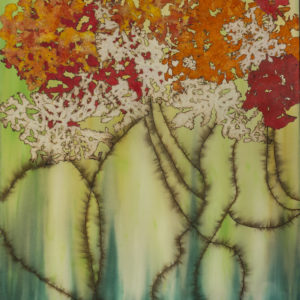 Above Left: "Sunkissed from Within"                 PAINTINGS by Mira Lehr         Above Right: "Reproductive Genesis"
The exhibition is on view for six weeks, through April 20th, and will feature a panel discussion event about the role women artists played in the evolution of Miami's art scene (April 4th at 3:00 p.m. in the hotel's Sanctum room, located on the 14th floor). The moderator of this conversation will be The Miami Herald's Jane Wooldridge and the panel features some of South Florida's cultural leaders, including: Lorie Mertes (Executive Director of Locust Projects, formerly of the National Museum of Women in the Arts); Melissa Diaz (Cultural Arts Curator of the Deering Estate); Vivian Donnell Rodriguez (former Director of Miami-Dade County Art in Public Places, now on the Palm Beach County Public Art Board); Diane Robinson (filmmaker); and Ombretta Agro (curator and environmental activist). Space is limited at this event, RSVP required in advance at this link. The public will have the opportunity to meet the artist at this panel discussion, where she will sign advance copies of the new 400-page book by Skira Editore, the renowned art book publisher. Learn more about this major new international monograph honoring Mira Lehr at skira.net/en/books/mira-lehr-arc-of-nature-the-complete-monograph.
"Mira Lehr blazed trails as a woman artist in the 1950s during the male-dominated art scenes in New York and Miami's mid-century era," says Ericka Nelson, general manager of Kimpton EPIC Hotel and director of operations for Kimpton's Florida hotels. "Today, Lehr is recognized as one of the early influencers who helped Miami become an epicenter of creativity and diversity, and her art continues to inspire new generations throughout her six decades of propelling the art movement forward. The launch of our Hotel's EPIC Art initiative has infused the visual arts into the guest experience ‒ paying homage to the extraordinary creative talent that has served to make our city a cultural destination," adds Nelson. Mira Lehr was recently selected by PBS Television for this virtual town hall about Women in the Arts — pbs.org/video/women-in-the-arts-virtual-town-hall-obqsgn/
Below: "Her Golden Hour" by Mira Lehr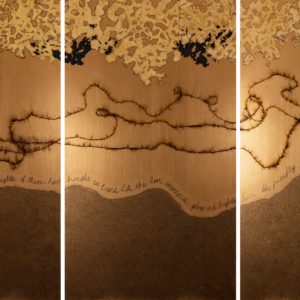 In honor of Women's History Month, one of the new paintings in this exhibition is titled Julia's Prophecy (for Julia Tuttle). Known as "the mother of Miami," Tuttle was pivotal in pioneering the City of Miami in the 1890s. The Hotel is located near the very spot where Julia Tuttle first settled.
The term Continuum is equated with being limitless and with the idea of boundlessness, and this current time has been a powerful period of creativity for Lehr. New techniques and discoveries have paved the way for new visions and experiments in her art, and this exhibition thrives on that sense of newness for Mira Lehr.
"I am grateful to have been selected for this art exhibition honoring Women's History Month, and to share this new series of works, some definitely representing a departure point," says Mira Lehr.
"I no longer feel as though I have those Masters of art history sitting on my shoulders, watching what I am doing. I am more of an explorer now. I can now create in a more powerful way. I find that this realization often comes late in life, after a long career and I believe my sixty years of work has made me, in Hans Hofmann's words, 'search for the real' in a more profound way," says Lehr.
To emphasize the peril of climate change that we are now experiencing, Lehr experiments with the use of fire. "This natural element of fire, often controlled and abused by man, is a major medium in my work and my interest in the environment has become a driving force. Drawing with fuses and loose gunpowder on top of subtle hand drawing, I set the entire work ablaze, embracing the risk that such a gesture could destroy my entire painting. Afterward, only a trace of the flame's path remains, bringing an exciting energy to the work and the suggestion of destruction."
About Kimpton Hotels & Restaurants
 San Francisco-based Kimpton Hotels & Restaurants is the original boutique hotel company, which pioneered the concept of unique, distinctive, design-forward hotels in the United States in 1981. Anchored in one-of-a-kind experiences, Kimpton now operates more than 60 hotels and 80 restaurants, bars and lounges across urban locations, resort destinations and up-and-coming markets in the United States, Canada, Europe, Caribbean and Greater China. Kimpton spaces and experiences center on its guests, offering inspiring design that evokes curiosity to forward-thinking flavors that feed the soul. Every detail is thoughtfully curated and artfully delivered, so that guest experiences remain meaningful, unscripted and ridiculously personal.
Kimpton's employees, empowered to provide heartfelt service and experiences, have built a highly regarded workplace culture that appears consistently on FORTUNE magazine's "100 Best Companies to Work For" list. As a result, Kimpton has been awarded, "Highest in Guest Satisfaction Among Upper Upscale Hotel Chains" by J.D. Power three times. In January 2015, Kimpton became part of the InterContinental Hotels Group (IHG) family of hotel brands ‒ KimptonHotels.com.