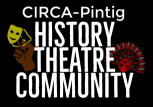 CONTACT:
Prior to event: Anna Guevarra, email: arpgue@gmail.com
On site during the event: Ginger Leopoldo at 312-956-9489 and Luis Pascasio at
312-451-6974
FOR IMMEDIATE RELEASE
December 7, 2021
WORLD HUMAN RIGHTS DAY AND END OF THE YEAR CELEBRATION CIRCA-Pintig's 30th Anniversary Season
[Chicago, IL]. In celebration of its 30th Anniversary season, the Center for Immigrant Resources and Community Arts (CIRCA)-Pintig, a community theatre and arts organization has organized a gathering to mark the World Human Rights Day and pay tribute to various human rights social movements in the US and the Philippines with a range of artistic and political work that encompass the themes of freedom, peace, and dignity within our communities.
The event is taking place in person on Sunday, December 12, 2021, from 2-6 pm CST at the Seafood City Supermarket's Market Mix Function Room, 5033 North Elston Avenue Chicago IL 60640. Tickets may be reserved here: https://bit.ly/cphumanrightsday
The event is sponsored by CIRCA Pintig, a 30-year organization celebrating the history of Filipinos in America. It is the only Filipino American theatre company in the Midwest. It will bring together cultural workers, performance artists, community organizers, investigative journalists, nurses, and many others who will speak on the pressing issues around racial violence, indigenous rights, police brutality, US militarism, and media advocacy. According to CIRCA-Pintig's Executive Director, Ginger Leopoldo, "In these challenging times, an event like this provides us with a sense of connection and solidarity."
The event's keynote will be delivered by Potri Ranka Manis, an indigenous Meranao from the southern Philippines who comes from the Dirampaten Royal House of Borocot. She has the title Bai Labi a Gaus. She is a nurse, a Theatre of the Oppressed practitioner, and founding Artistic Director of Kinding Sindaw.
Additionally, the program lineup includes:
● Lani Montreal's staged reading of "Panther in the Sky," a play
● AAP (I Belong) Art Exhibit
● Projects by Artist & Activist Cesar Conde
● The "Tsinelas" Action and the Philippine Human Rights Act presented by Maya Arcilla ● "Bound to Empire," performance piece by Ashley Dequilla
● Ramin Takloo-Baghash's art exhibit, 1988 executions of Iranian political prisoners
● Performance, University of Illinois Chicago's Filipinos in Alliance (FIA) Cultural Student Group
NOTE All attendees are required to have masks and proof of vaccination for the event.
FOR MORE INFORMATION AND HOW YOU CAN SUPPORT
● CONTACT: Ginger Leopoldo, Executive Director: ginger@circapintig.org and visit the website: https://www.circapintig.org
● Purchase your event tickets here:
https://bit.ly/cphumanrightsday
Suggested Donation: $30 or PAY-WHAT-YOU-CAN, includes food/drink, reserved seat at the luncheon, and all performances and a raffle ticket. RSVP required.
● Donate to CIRCA-Pintig: https://bit.ly/cptripleimpact